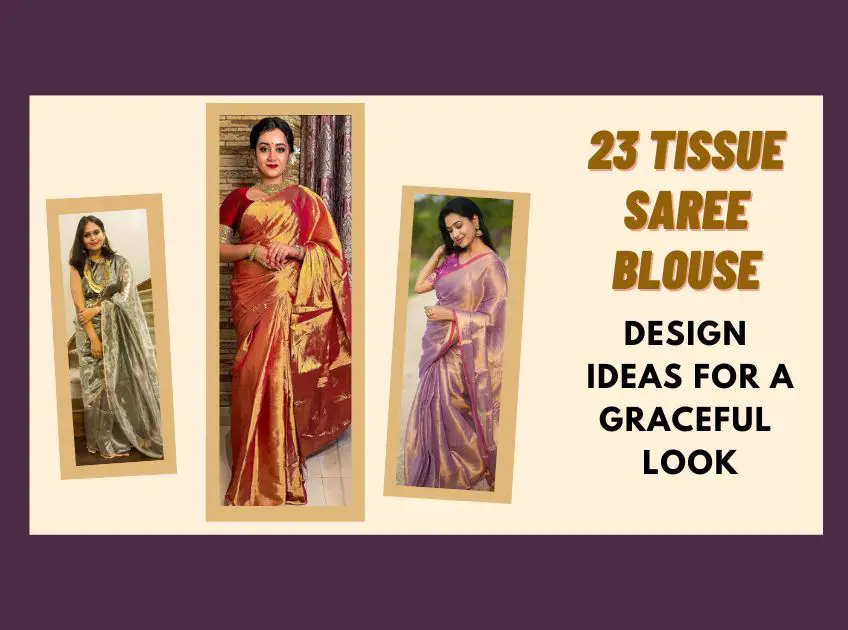 Tissue sarees exude delicacy and elegance, making it crucial to select a blouse that perfectly complements both the fabric and the saree's style. Explore these blouse design ideas to pair with your tissue saree. The choice of blouse design ultimately reflects your personal style and complements the grace and elegance of the tissue saree.
23 Tissue Saree Blouse Design Ideas for a Graceful Look
1. Neon Green Tissue Saree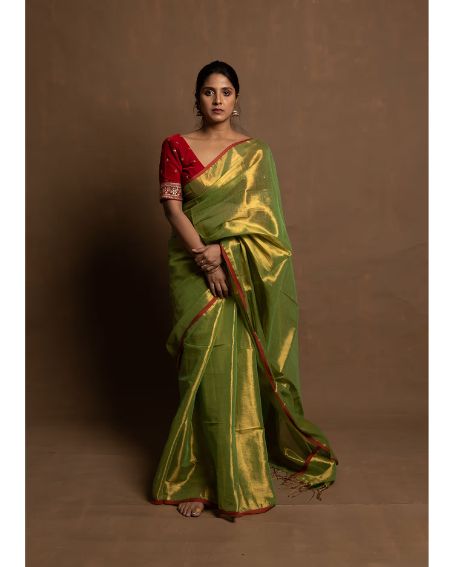 Vibrant neon green tissue sarees add a youthful flair to traditional attire.
Perfect for women, young girls, and teenagers seeking a trendy ethnic look.
Ideal for festive occasions and celebrations.
2. Mirror Work Embellished Tissue Saree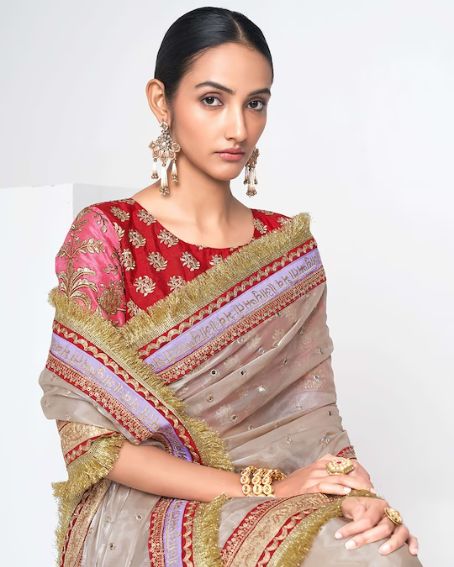 Mirror work embellishments on tissue sarees create a dazzling effect.
A favorite choice among women and young girls for weddings and parties.
The shimmering mirrors add a touch of glamor to any outfit.
3. Hand Painted Organza Tissue Saree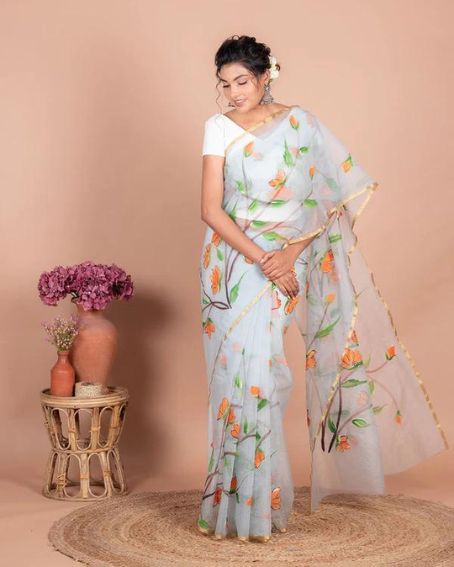 Hand-painted designs on organza tissue sarees offer an artistic touch.
Adored by women of all ages, especially those with a penchant for artistry.
These sarees are perfect for cultural events and exhibitions.
4. Orchid Haze Glass Tissue Saree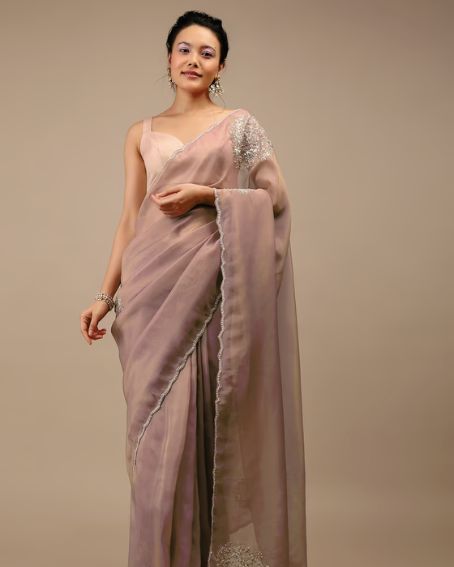 Orchid haze glass tissue sarees exude elegance and grace.
Suitable for women, young girls, and teenagers for formal occasions.
The subtle yet enchanting color complements various skin tones.
5. Shikhara I Gold Tissue Saree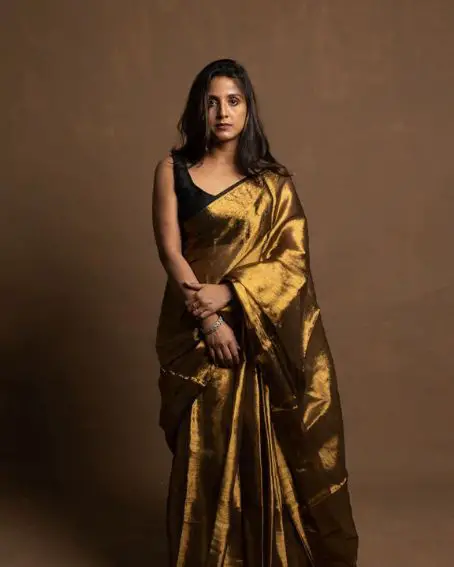 Shikhara I gold tissue sarees radiate opulence and sophistication.
Highly favored by women seeking a regal appearance at grand events.
The intricate gold work adds a touch of royalty to the ensemble.
6. Gold Tissue Saree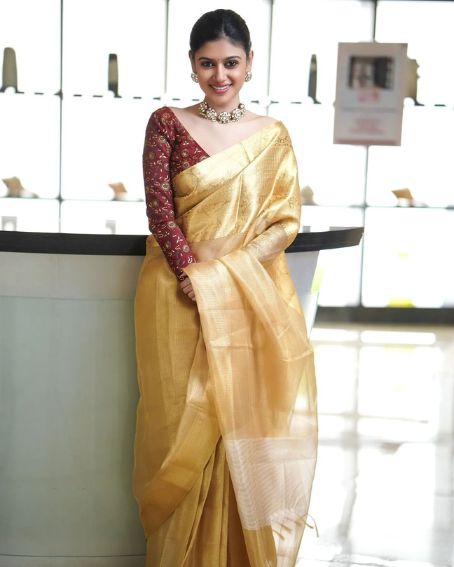 Classic gold tissue sarees remain a timeless choice for women of all ages.
A must-have in every wardrobe for weddings and festive gatherings.
The lustrous fabric exudes charm and elegance.
7. Kerala Kasavu – Handloom Gold Tissue Saree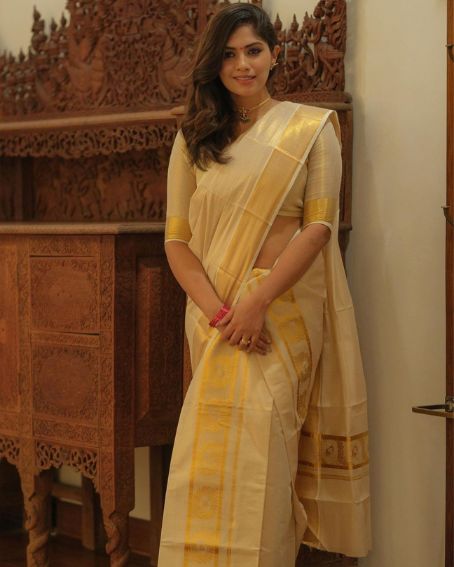 Kerala Kasavu gold tissue sarees blend tradition with contemporary elegance.
Ideal for young girls and teenagers embracing their cultural heritage.
These sarees represent the rich tradition of Kerala.
8. Mint Blue & Gold Dual Tone Sequins Embroidered Tissue Organza Saree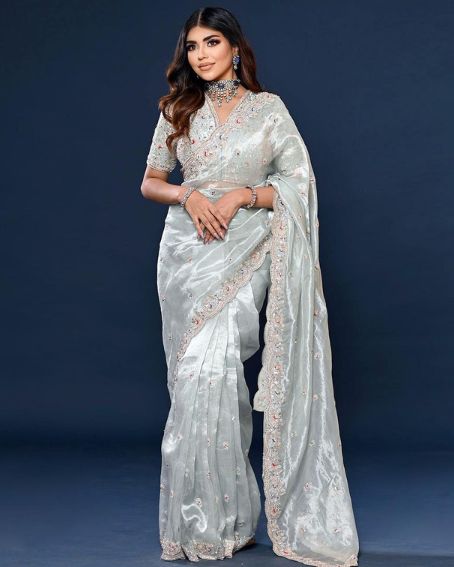 Dual-tone sequin embroidery on mint blue tissue organza sarees captivates fashion enthusiasts.
Perfect for women looking for a unique blend of colors and textures.
Ideal for parties and special gatherings.
9. Soft Cotton Tissue Saree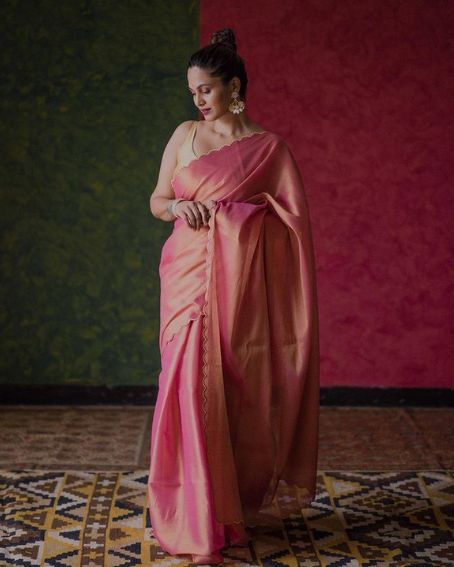 Soft cotton tissue sarees offer comfort and simplicity for women of all ages.
A versatile choice suitable for casual wear or informal occasions.
Preferred by teenagers for its ease of draping.
10. Gold/Silver Tissue Saree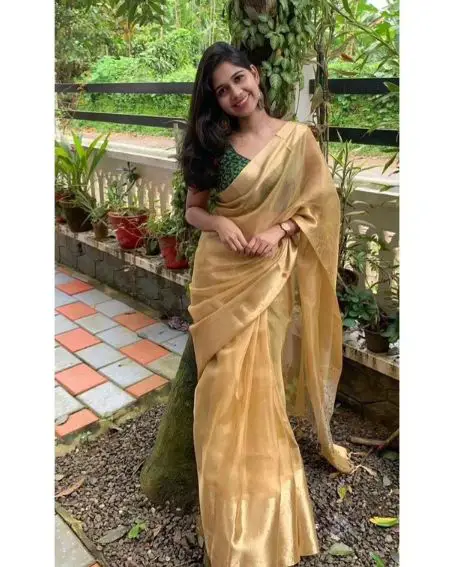 Gold/silver tissue sarees provide a shimmering, versatile option.
Loved by women and young girls for its adaptability to diverse occasions.
The metallic hues bring a touch of glamor to any event.
11. Gold Tissue Organza Saree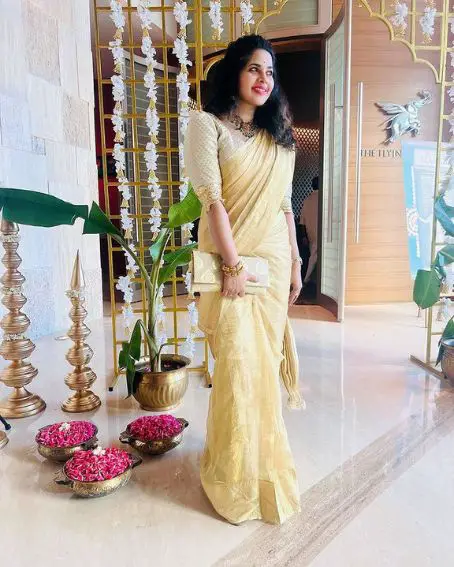 Gold tissue organza sarees exude sheer elegance and charm.
Suitable for women seeking a blend of traditional and contemporary style.
A favorite choice for weddings and upscale events.
12. Purple Tissue Saree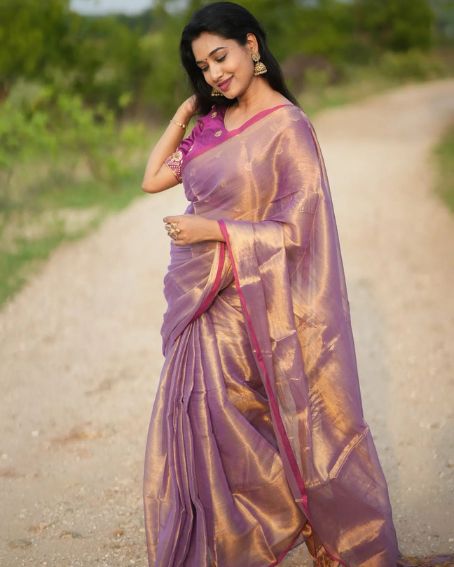 Purple tissue sarees add a touch of royalty to ethnic wear.
Suitable for women and young girls looking for a regal color choice.
Perfect for cultural events and festive gatherings.
13. Chanderi Handwoven Pure Tissue Silk Saree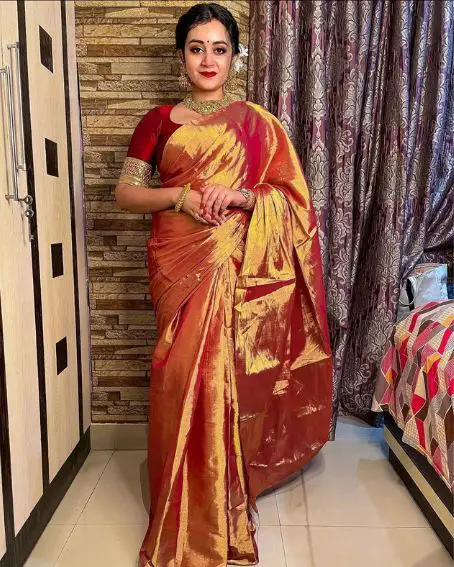 Chanderi handwoven pure tissue silk sarees showcase intricate craftsmanship.
Admired by women who appreciate the artistry of handwoven textiles.
Ideal for special occasions and cultural ceremonies.
14. Pure Tissue Silk Saree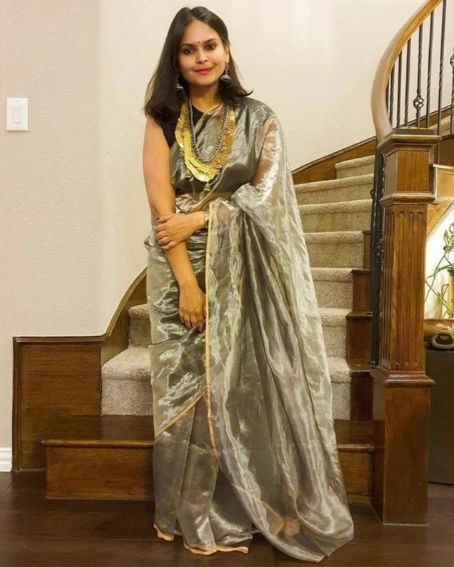 Pure tissue silk sarees symbolize grace and sophistication.
Preferred by women of all ages for their timeless appeal.
Suitable for traditional celebrations and grand events.
15. Chanderi Handwoven Pure Tissue Katan Silk Saree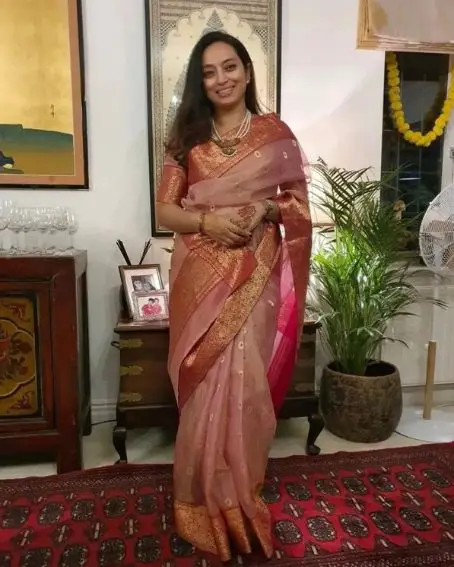 Chanderi handwoven pure tissue katan silk sarees offer a unique blend of textures.
Ideal for women and young girls seeking a fusion of tradition and modernity.
These sarees are perfect for upscale gatherings.
16. Tissue Silk Handwoven Saree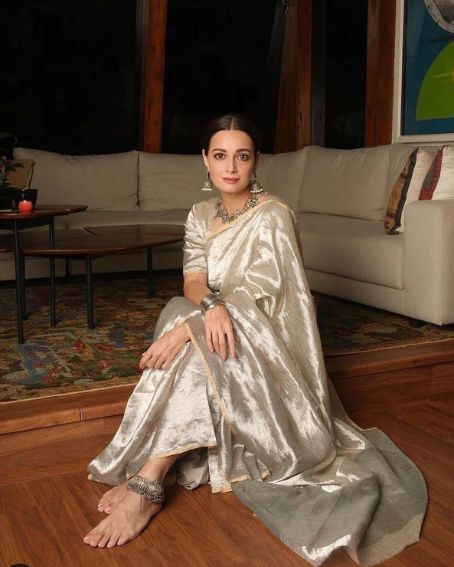 Tissue silk handwoven sarees reflect the artistry of traditional craftsmanship.
A timeless choice for women appreciating heritage textiles.
Suitable for cultural events and heritage celebrations.
17. Handwoven Tissue with Pattu Silk Saree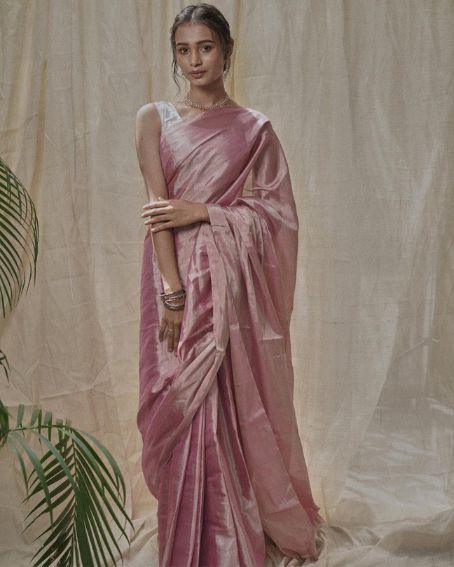 Handwoven tissue sarees with pattu silk blend luxury and tradition.
Loved by women of all ages for their exquisite combination of fabrics.
Ideal for weddings and cultural festivals.
18. Stunning Tissue Silk Handloom Saree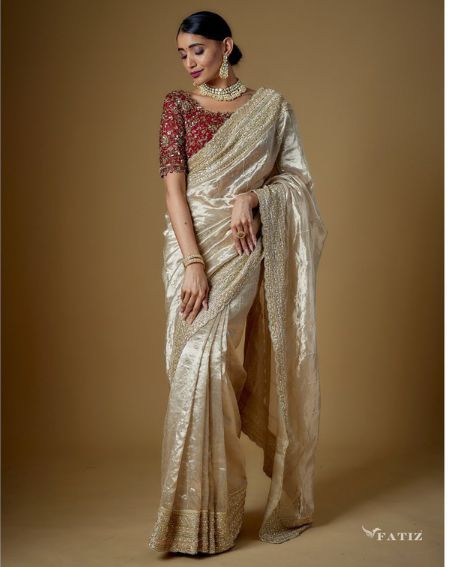 Stunning tissue silk handloom sarees are a statement of elegance.
Highly sought after by women looking to make a fashion statement.
Perfect for high-profile events and receptions.
19. Gold Soft Tissue Saree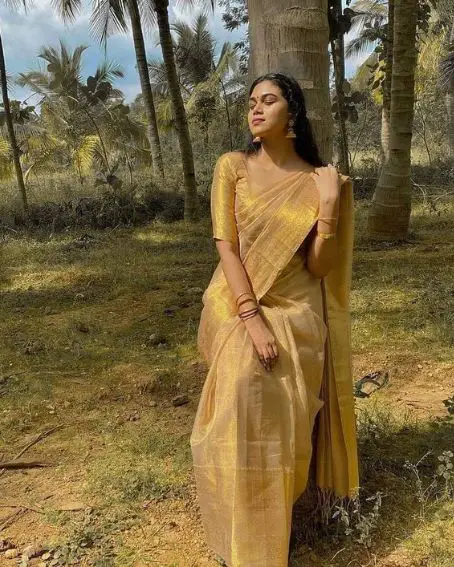 Gold soft tissue sarees offer a blend of comfort and opulence.
Admired by women and young girls for their soft, flowing drape.
Suitable for both formal and semi-formal occasions.
20. Rose Gold Pure Tissue Silk Saree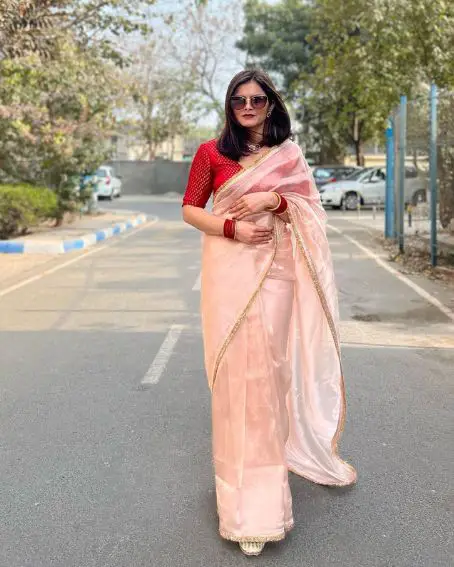 Rose gold pure tissue silk sarees emanate a romantic aura.
Ideal for women seeking a contemporary twist on traditional wear.
Perfect for romantic evenings and cultural soirées.
21. Banarasi Silk Tissue Sarees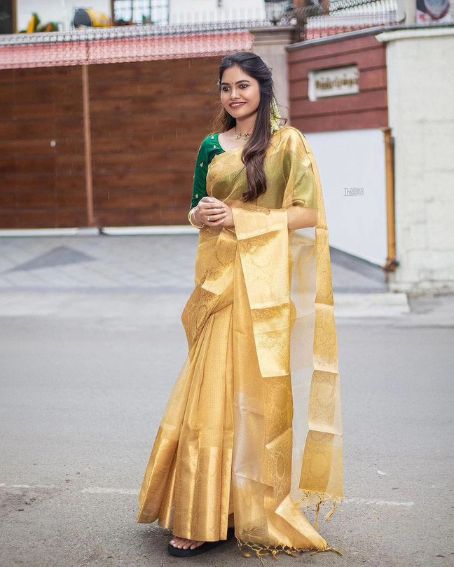 Banarasi silk tissue sarees combine Banarasi opulence with tissue sheen.
A favored choice among women and young girls for their grandeur.
Ideal for weddings and traditional ceremonies.
22. Handwoven Gold-Silver Tissue Silk Saree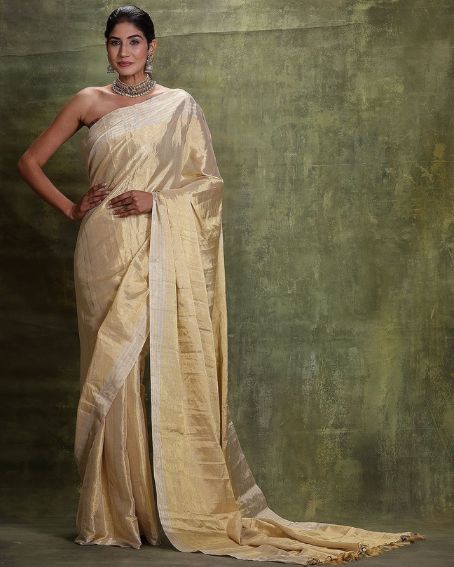 Handwoven gold-silver tissue silk sarees radiate luxury.
A captivating choice for women looking to make a grand entrance.
Perfect for upscale events and celebrations.
23. Gray Silk Tissue Saree with All-Over Embroidery in Sparkling Sequins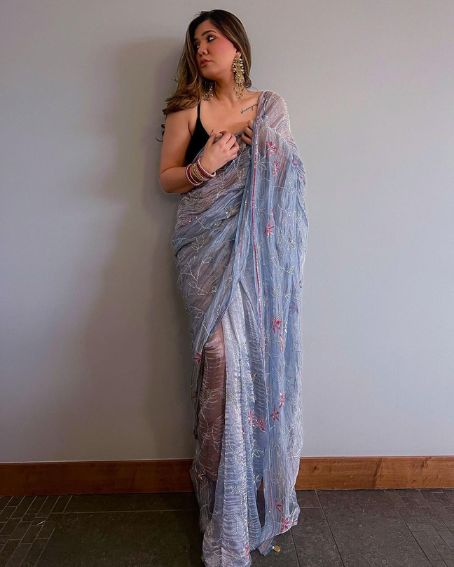 Gray silk tissue sarees with sequin embroidery offer a subtle yet glamorous look.
Suitable for women and young girls who appreciate understated elegance.
Ideal for evening parties and cocktail events.
Conclusion
Tissue sarees offer a canvas for diverse blouse designs, from traditional embroidery to modern cuts. Embrace this fusion of tradition and contemporary style to enhance your elegance and grace when wearing these exquisite sarees. There's a blouse design for every taste and occasion, making them a perfect complement to the beauty of tissue sarees.