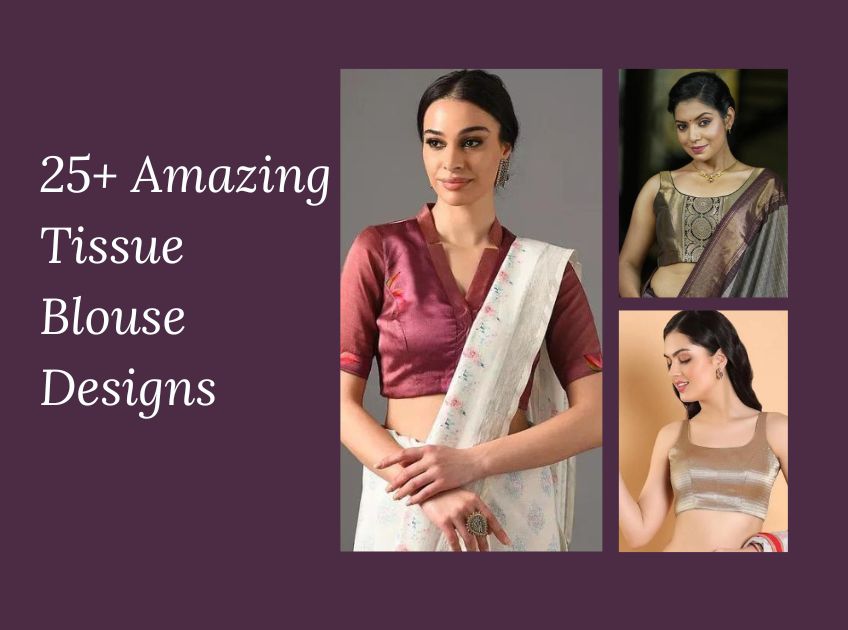 Tissue blouses are a type of saree blouse that have a light and airy fabric. They come in many colors and patterns, so you can match them with different sarees for various occasions. Tissue blouses add a touch of elegance and grace to your saree look.Tissue is a thin and delicate fabric that is often used to create elegant and festive blouses for sarees and lehengas. It can be plain, embroidered, or embellished with sequins, beads, or stones.
25+ Amazing Tissue Blouse Designs
1.
Solid Color Tissue Blouse in Teal Blue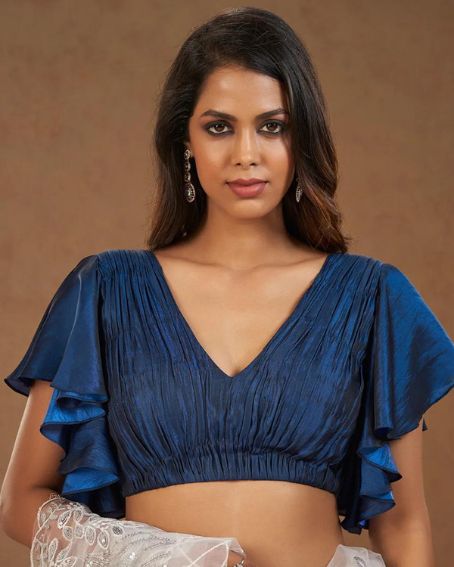 This teal blue blouse is made from lightweight tissue fabric, perfect for warm weather or evening events. Its solid color makes it versatile, suitable for pairing with a variety of sarees, and it appeals to young girls, teenagers, and women looking for an elegant and timeless choice.
2. Bronze Banarasi Tissue Blouse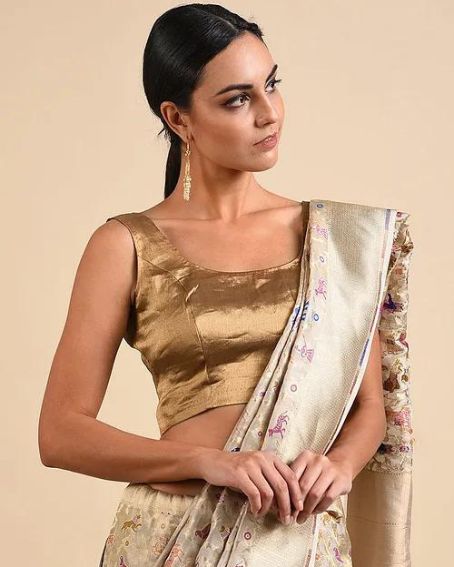 Combining the allure of traditional Benarasi silk with the delicate texture of tissue fabric, this blouse is a beautiful blend of old-world charm and modern style. It's a favorite among women of all ages, especially those who appreciate the cultural richness of Indian textiles.
3.
Maroon Red Modal Tissue Blouse With Semi Collar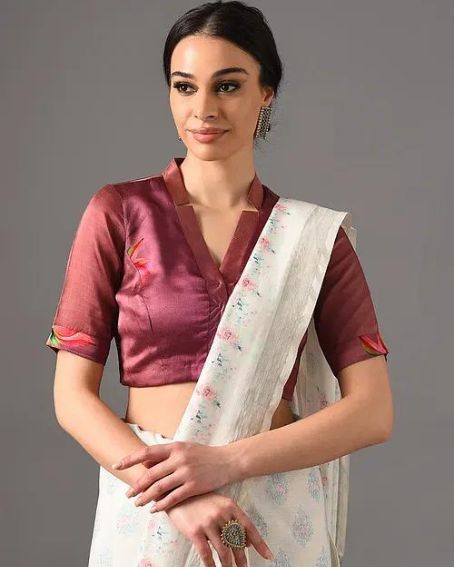 Maroon and red shades evoke passion and confidence. This blouse not only looks stylish but also feels comfortable, thanks to the modal fabric. It's perfect for young girls, teenagers, and women who want to make a statement.
4.
Solid Color Tissue Blouse in Peach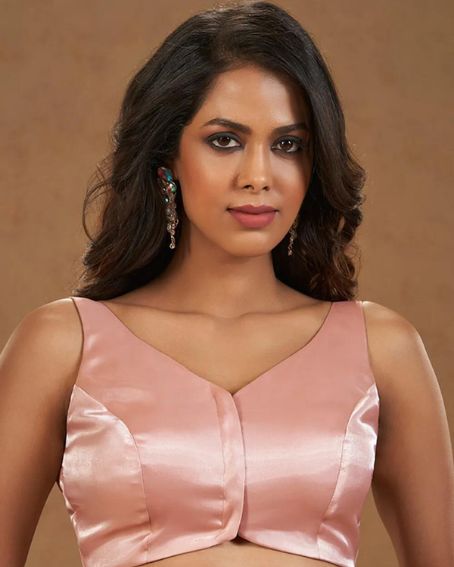 The peach color of this blouse exudes softness and femininity. Solid colors are timeless and versatile, making this blouse a staple for women of all ages who appreciate simplicity and grace.
5.
Blouse In Fuchsia Pink Tissue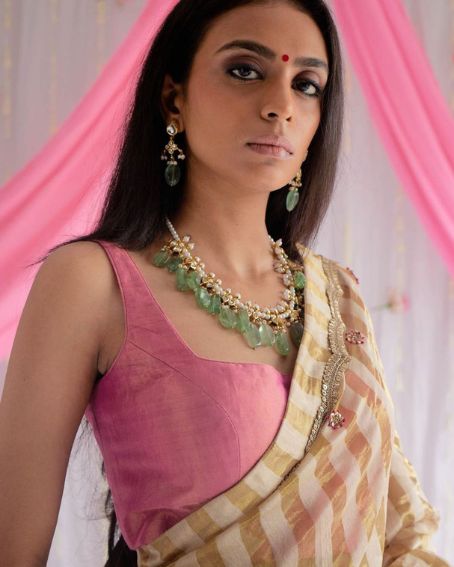 Fuchsia pink is a bold and vibrant choice, perfect for young girls and teenagers who want to add a pop of color to their saree outfits. Women of all ages can also embrace this shade to make a statement.
6. Women Red Solid Tissue Silk Saree Blouse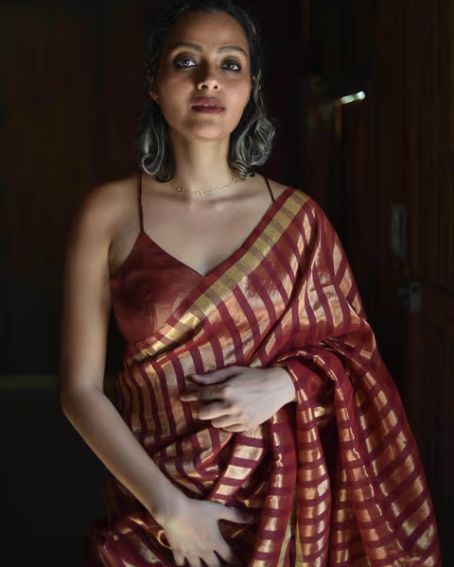 This red blouse, made from solid tissue silk, is a classic choice for women. Red symbolizes passion and is often worn during weddings and special occasions.
7.
Pink Tissue Blouse with Silver Waist Panel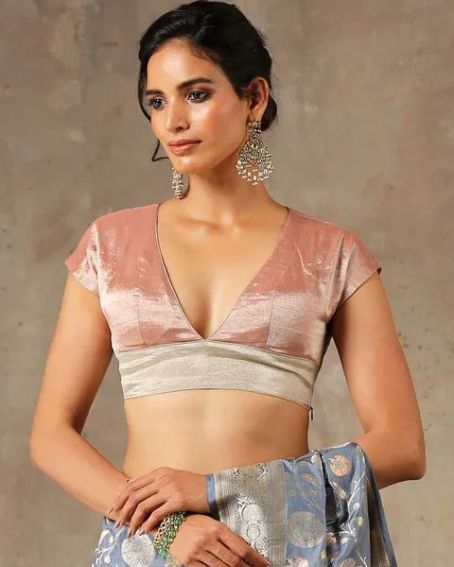 The combination of pink and silver is contemporary and trendy. This blouse is an excellent choice for young girls and women who want to showcase their fashion-forward style.
8. Silver Tissue Blouse with V Neck Style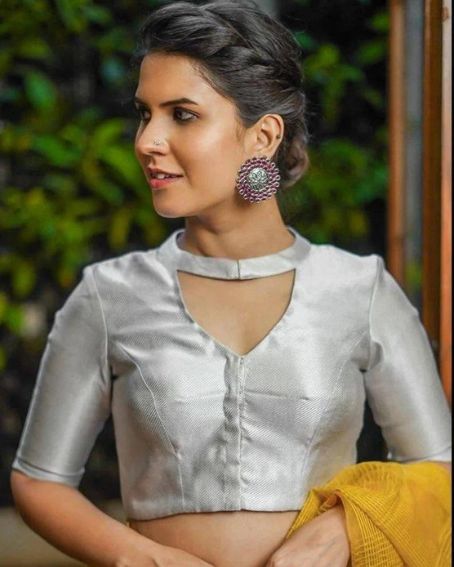 Silver is a neutral yet glamorous color. This blouse with a V-neck design can be worn by women of all ages for various occasions, from formal events to casual gatherings.
9.
Embroidered Tissue Blouse in Golden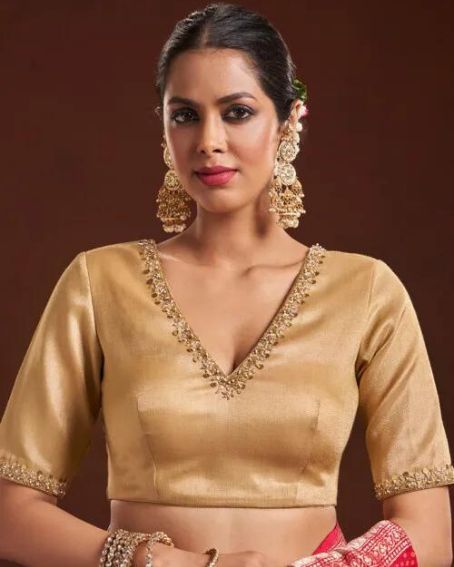 The golden embroidery on this blouse adds a touch of opulence. It's a popular choice among women looking for an elegant and richly decorated blouse.
10. Pink Tissue Neckline Embroidered Saree Blouse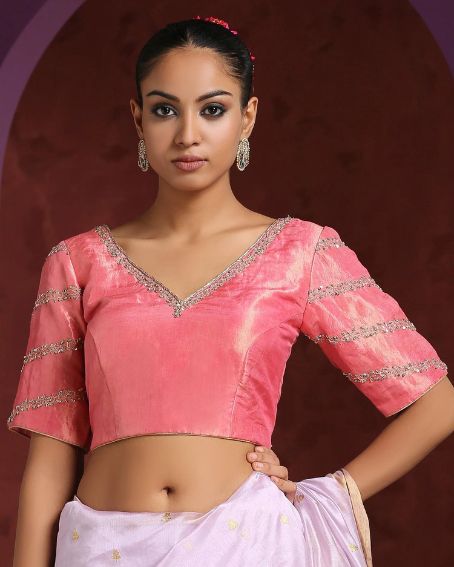 This pink blouse with delicate neckline embroidery is perfect for young girls and women seeking sophistication and subtlety in their attire.
11. Mustard Tissue Silk Solid Blouse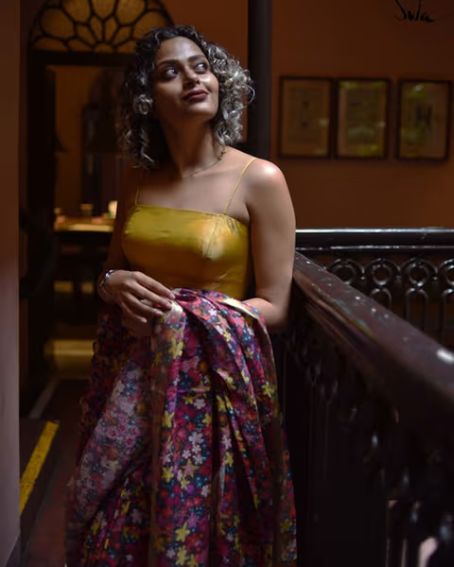 Mustard is a warm and versatile color. This blouse appeals to women of all ages who appreciate its vibrancy and unique hue.
12. Bronze Brocade Tissue Blouse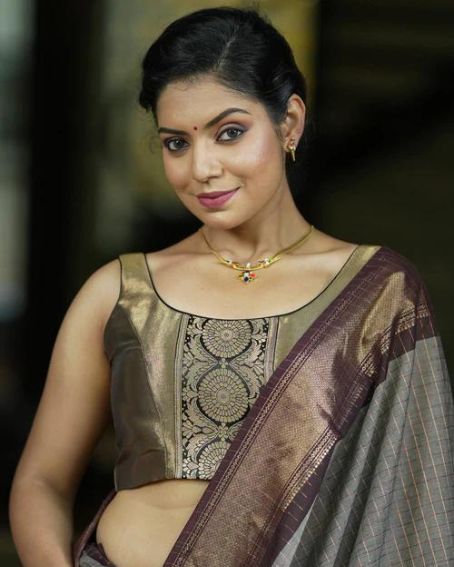 The "Bronze Brocade Tissue Blouse" is an exquisite garment, combining the regal charm of Brocade silk with the delicate allure of tissue fabric, perfect for adding a touch of elegance to traditional Indian attire.
13. Cotton Tissue Readymade Blouse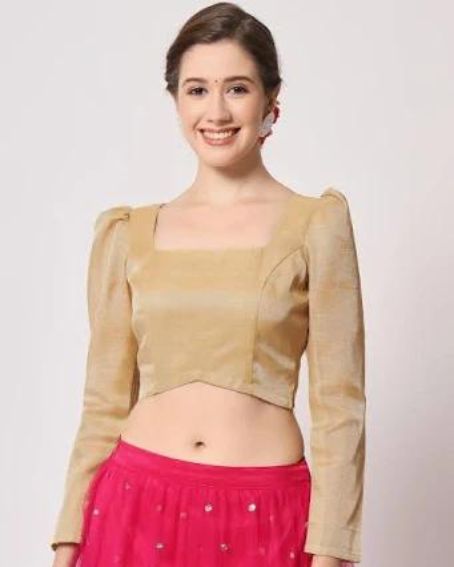 A "Cotton Tissue Readymade Blouse" offers comfort and convenience in a lightweight fabric, ideal for everyday or casual wear.
14.
Sky Blue Boat Neck Blouse Design with Balloon Sleeves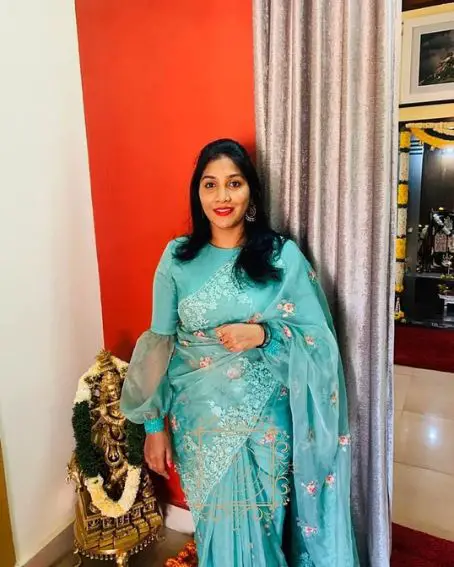 The sky blue blouse with a boat neck design and balloon sleeves combines modern and traditional elements. It's a stylish choice for teenagers and women.
15. Silver Tissue Blouse with Potli Design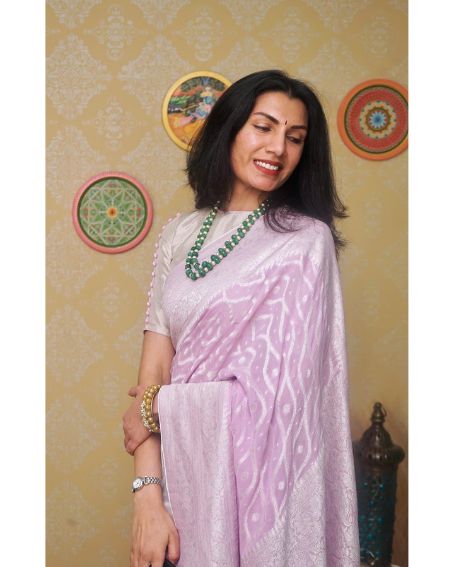 The potli design adds an ethnic touch to this silver blouse. It's suitable for women and teenagers who want to infuse cultural elements into their attire.
16. Gold Color Tissue Blouse with V Neck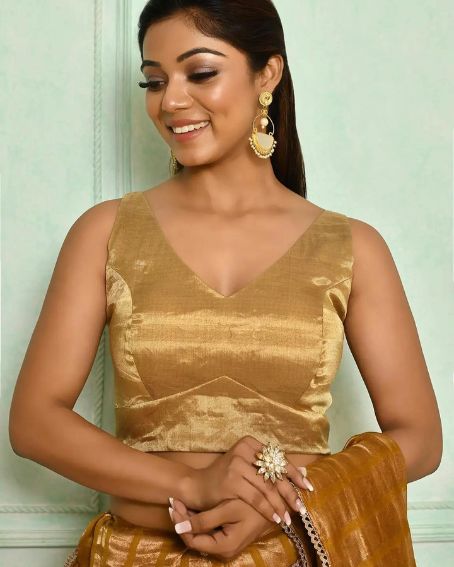 Gold signifies luxury and elegance. This blouse with a V-neck style is a versatile choice that caters to women of all ages, suitable for various sarees.
17.
Gold Tissue Cotton Sarees with Tissue Blouse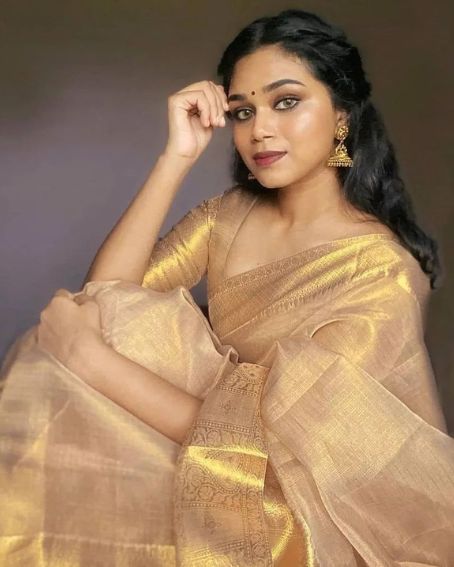 These gold cotton sarees come with matching tissue blouses, offering a complete and dazzling outfit for women who want a coordinated look.
18.
Gold & Copper Striped Metallic Chanderi Silk Saree with Tissue Blouse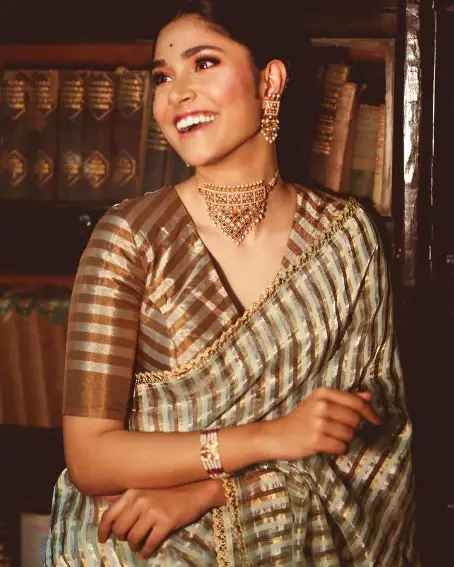 This metallic chanderi saree with a tissue blouse adds opulence to your attire. It caters to women who appreciate the richness of Indian textiles.
19. Gold Tissue Blouse Black Plain Blouse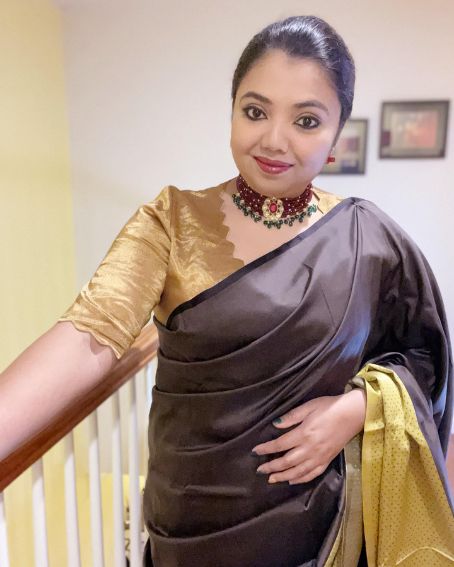 The black blouse with gold tissue accents offers a blend of simplicity and glamor. It suits women of all ages seeking a classic yet stylish look.
20.
Pure Tissue Silk Blouse with Organza Silk with Hand Embroided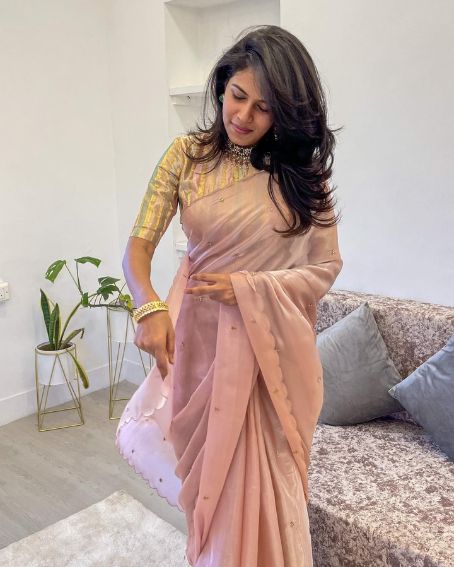 Hand-embroidered, this pure tissue silk blouse showcases exquisite craftsmanship and style, appealing to women who appreciate the intricacy of design.
21.
Tissue Blouse with Gray Color and Elbow Length Sleeves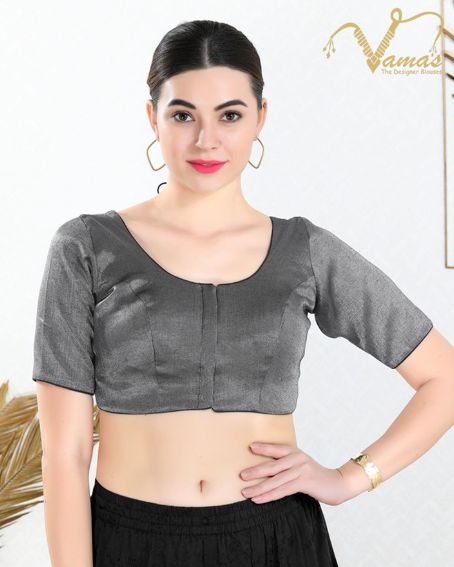 Gray is a neutral color that exudes sophistication. The elbow-length sleeves add a unique touch. It's suitable for women looking for both comfort and elegance.
22.
Bridal Pink and Gray Combinated Tissue Blouse Design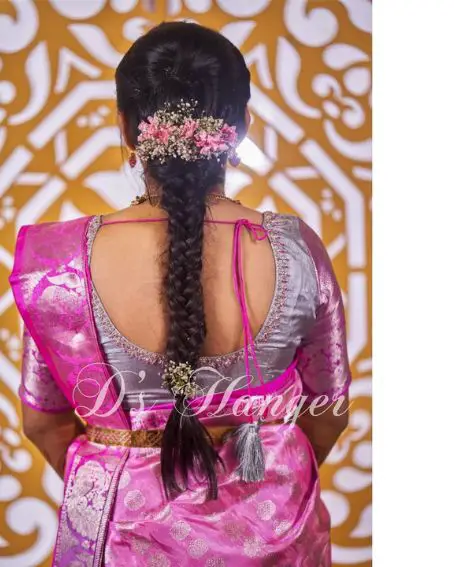 This combination blouse in bridal pink and gray is perfect for young brides and women seeking a chic and special look for weddings and festive occasions.
23.
Zelda Silver Chanderi Silk Tissue Blouse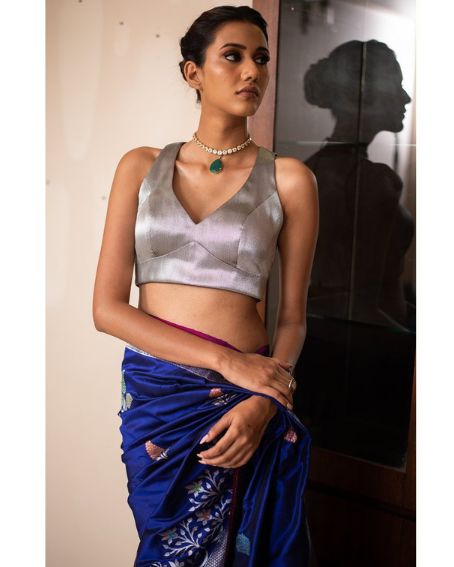 The silver chanderi silk blouse named Zelda exudes timeless elegance, appealing to women who appreciate the beauty of traditional Indian textiles.
24.
Copper Tissue Blouse with Navy Blue Pure Chiffon Saree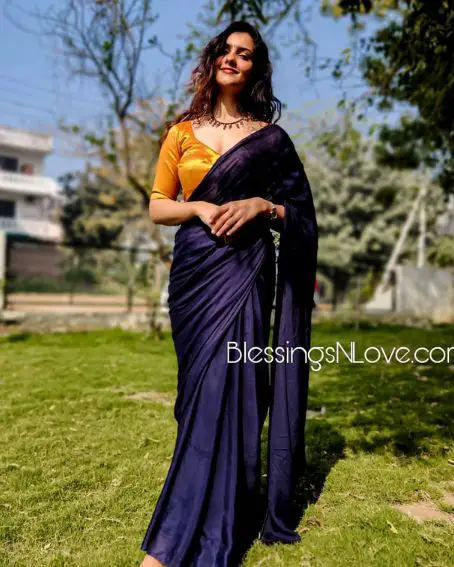 The combination of copper and navy blue offers a striking contrast, making this saree ensemble suitable for women who want to make a bold statement.
25.
Bricks Red Tissue Blouse with Elbow Length Sleeves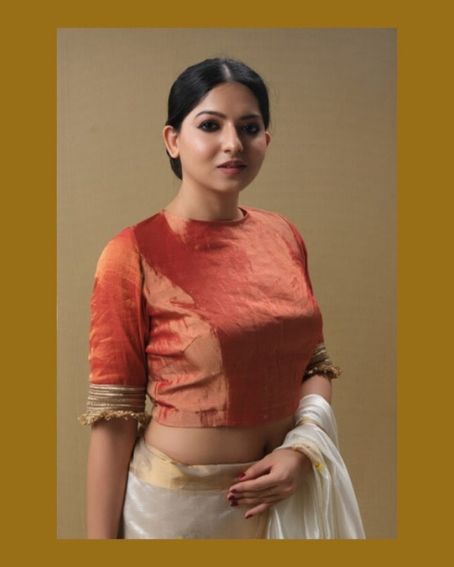 The brick-red blouse with elbow-length sleeves adds a traditional touch to your saree ensemble, making it a versatile choice for women of all ages.
26.
Silver Cotton Tissue Blouse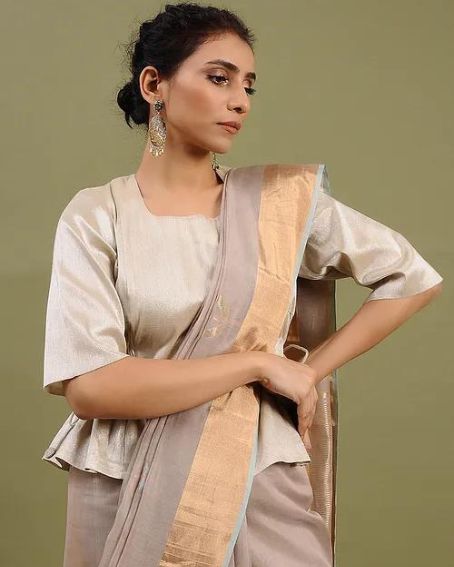 This silver cotton tissue blouse offers both comfort and a touch of shine, catering to women who appreciate a combination of style and ease.
27.
Bronze-Silver Benarasi Tissue Blouse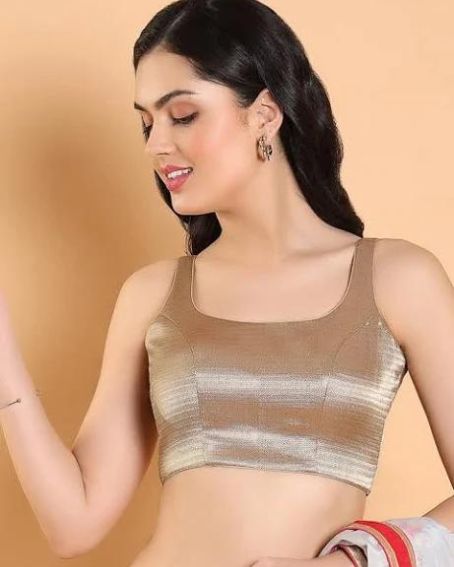 The blend of bronze and silver tones in this Banarasi tissue blouse appeals to women of all ages who seek a classic yet unique fashion statement.
28.
Off-White & Gold Chanderi Silk Hand Embroidered Blouse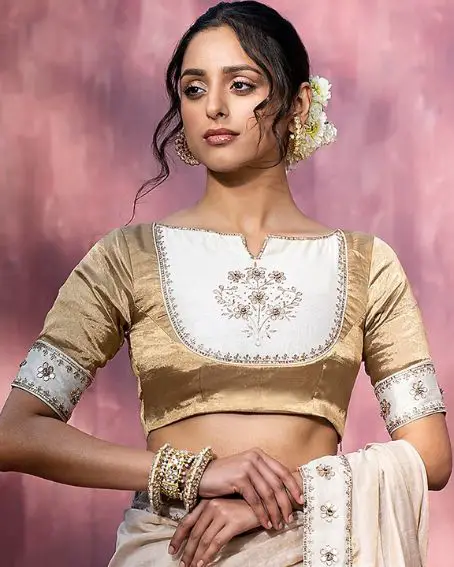 With its opulent gold embroidery, this off-white blouse is a versatile choice that suits young girls and women who want to add a touch of luxury to their attire
What Are The Features of the Tissue Blouse Designs ?
Sheerness: Tissue fabric is inherently sheer, which adds an element of elegance and sensuality to the blouse. It allows for a peek of skin, making it perfect for formal events and parties.
Embroidery: Tissue blouses can be beautifully embroidered with intricate patterns using thread, sequins, beads, or zari work. This embroidery can be placed strategically to enhance the blouse's overall look.
Sequin and Stone Work: Tissue blouses often feature sequins, rhinestones, or other shiny embellishments that catch the light and create a dazzling effect. These elements can be arranged in various patterns to create a stunning design.
Neckline Styles: The neckline of a tissue blouse can be customized to suit your preference. Common neckline styles include round, V-neck, square, sweetheart, boat neck, and more. The choice of neckline can significantly impact the blouse's overall appearance.
Sleeve Designs: Tissue blouse sleeves can be designed in various ways, such as full sleeves, cap sleeves, three-quarter sleeves, or sleeveless. Adding embroidery or embellishments to the sleeves can further enhance the blouse's appeal.
Back Designs: The back of a tissue blouse is an excellent canvas for creativity. Backless designs, keyhole cutouts, deep U-backs, and intricate lacework are popular choices for tissue blouse backs.
Color Palette: Tissue blouses come in a wide range of colors to complement different sarees or lehengas. You can opt for traditional colors like gold, silver, red, and black, or experiment with more contemporary shades.
Blouse Length: You can choose the length of your tissue blouse based on your preference. Short blouses that show a little midriff are trendy, but longer ones that cover the waistline are also elegant.
Fabric Combinations: Tissue fabric can be combined with other materials like silk, velvet, or net to create contrast and texture in the blouse design.
Tassels and Latkans: Adding tassels or latkans (hanging embellishments) to the blouse's back ties or dori can give it a traditional and playful touch.
Ruffles and Frills: Tissue blouses can feature ruffles or frills along the neckline, sleeves, or hemline for a feminine and romantic look.
To choose the right tissue blouse design for your saree, first consider the saree's color and pattern. Opt for a simpler blouse if the saree is heavily embellished, or go for an ornate blouse with a plain saree for contrast. Ensure the blouse's neckline and sleeve style flatter your body type, and think about the occasion. Match embroidery and embellishments with the saree's design, prioritize a comfortable fit, and align your personal style with the blouse choice. Finally, test the complete look in natural light before finalizing your decision.
What Are Suitable Pairings For Tissue Blouse Designs?
Tissue blouse designs can be paired with a variety of sarees and other ethnic outfits to create elegant and stylish looks.
Here are some popular pairings:
Silk Sarees: Tissue blouses complement silk sarees beautifully. Pair a plain tissue blouse with a heavily embroidered silk saree for a balanced look, or choose an intricately embroidered tissue blouse with a plain silk saree for contrast.
Georgette or Chiffon Sarees: Tissue blouses add a touch of glamour to lightweight georgette or chiffon sarees. You can go for a matching tissue blouse to create a seamless look or choose a contrasting color for a striking contrast.
Banarasi Sarees: Banarasi sarees are known for their rich and intricate designs. A tissue blouse with subtle embroidery can be an excellent choice to enhance the overall look of a Banarasi saree without overshadowing it.
Cotton Sarees: For a more contemporary look, pair a tissue blouse with a traditional cotton saree. A tissue blouse with minimalistic embroidery or trendy cuts can add a modern twist to your outfit.
Kanjivaram Sarees: Kanjivaram sarees are a classic choice for weddings and festive occasions. A heavily embroidered tissue blouse can elevate the look of a Kanjivaram saree and make it suitable for grand events.
Lehenga Choli: Tissue blouses are not limited to sarees; they can also be paired with lehenga cholis. Choose a tissue blouse with matching or contrasting colors to create a coordinated look with your lehenga.
Anarkali Suits: Tissue blouses can be worn with Anarkali suits for a regal and elegant appearance. A tissue blouse with intricate embroidery complements the long flowy silhouette of an Anarkali.
Skirt and Crop Top Sets: If you're going for a fusion look, pair a tissue crop top with a matching skirt for a trendy and stylish ensemble suitable for parties and events.
Palazzo Suits: Tissue blouses also work well with palazzo suits. Pair a plain tissue blouse with printed or embroidered palazzo pants and a matching dupatta for a contemporary ethnic look.
Draped Sarees: Tissue blouses can be paired with pre-draped sarees for a hassle-free and fashionable outfit choice.
What Occasions Are Suitable For Wearing Tissue Blouse Designs ?
Tissue blouses are a versatile choice for various occasions. They're a hit at weddings and formal gatherings because you can easily adjust their formality. To create an elegant look, team up a tissue blouse with a silk saree or lehenga. For a more relaxed vibe, pair it with a cotton saree or trendy palazzo pants.
During festive occasions like Diwali, Navratri, and Eid, tissue blouses come in handy. Their light and airy fabric ensure comfort even in hot weather, allowing you to fully enjoy the celebrations.
For parties and social events, you can count on tissue blouses to add flair to your outfit. They go well with a variety of bottoms, including skirts, pants, and shorts, giving you the freedom to express your style.
Tissue blouse designs present a delightful fusion of tradition and modernity, appealing to women of all ages. These blouses, available in a wide spectrum of colors and styles, offer versatility for a range of occasions, from everyday wear to special events. Whether it's the classic allure of Benarasi silk, the contemporary V-neck styles, or the ethnic charm of mirror work, tissue blouses provide an array of choices to suit individual preferences. These designs not only pay homage to India's rich textile heritage but also empower women, including young girls, teenagers, and mature individuals, to showcase their unique fashion sensibilities.
Related Articles