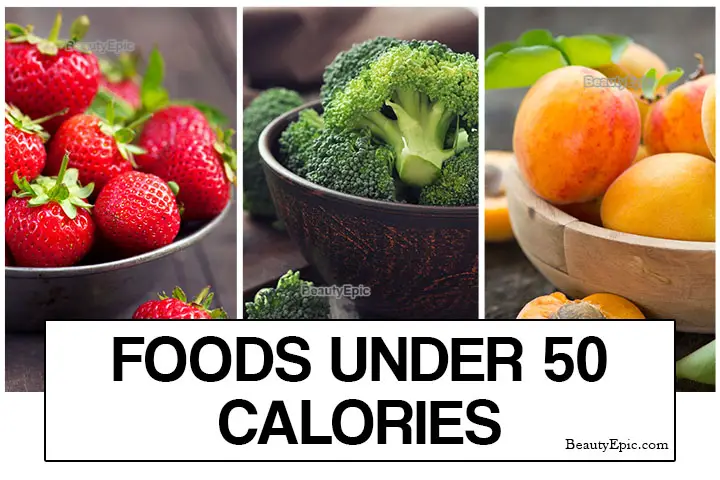 Losing weight is the major challenge people these days are taking up. Improving health and shedding off extra pounds is not everyone's cup of tea unless you are focused enough to do all what your body needs. The major cause of putting on weight, any idea?
Wrong lifestyle, bad eating habits, and imbalanced diet all add up, isn't it? Are you doing all of that lately? It's the time to chin up guys. While you may feel your health is ok but it's not. Start consuming healthy food from now on and you will see the change yourself. Try out these low calorie foods mentioned below and add them into your diet.
[ Read: Foods Under 30 Calories ]
Top 20 Healthy Foods Under 50 Calories
Apricots Calories – 48 Calories (per 100 g)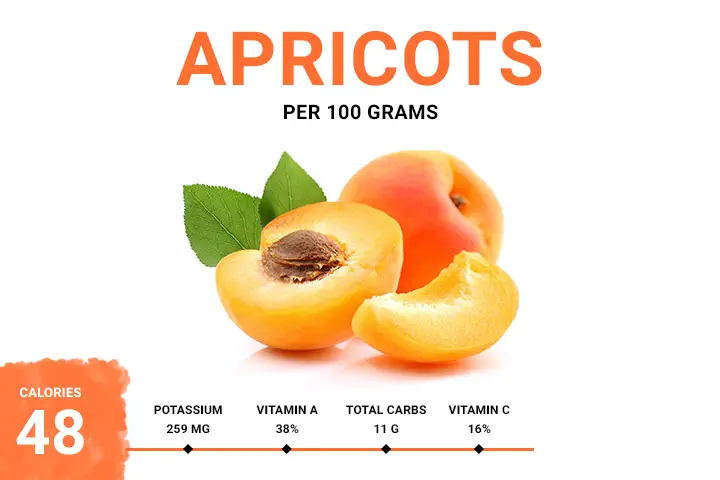 Apricot is orange fruit, tastes sweet and can be consumed in summer months. While it is an easy snack for munching, it has numerous nutritional benefits too. With vitamins A, C, fiber, and potassium, you will find real good perks when you stock up your refrigerator with this wonder food.
[ Read: Zero Calorie Foods ]
Artichokes Calories – 47 Calories (per 100 g)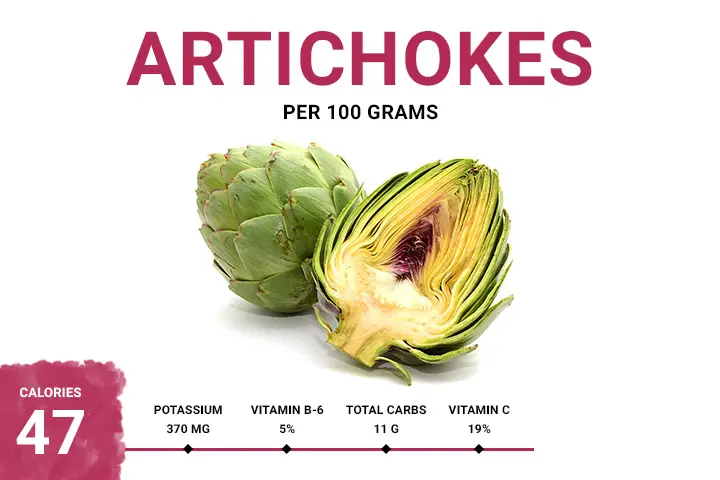 Add artichoke to your eating regime and check out amazing benefits of this veggie. It contains a great amount of powerful antioxidant as well as potassium that works brilliantly for your skin and hair. As you may know, potassium is fabulous for hair, you should definitely consider adding it in your dinner.
[ Read: 25 Healthy Foods for Weight Loss ]
Beets Calories – 43 Calories (per 100 g)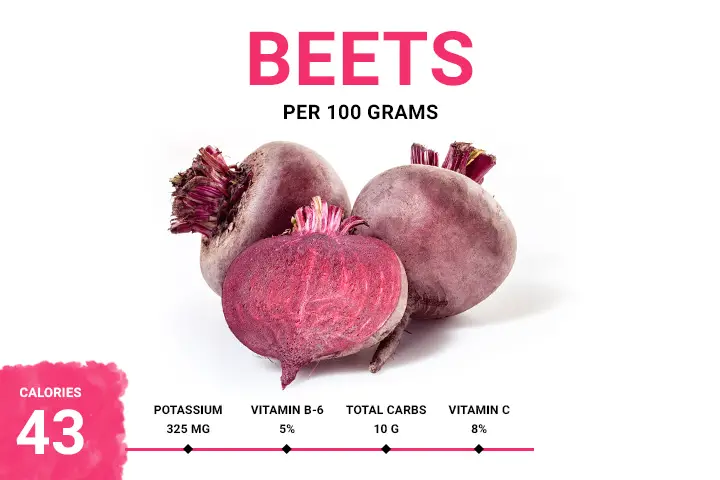 Beets contain betanin, a powerful antioxidant which is eaten raw or used in salads. To avail the benefits, it should be eaten as is.
[ Read: Foods to Avoid While Trying to Lose Weight ]
Carrots Calories – 41.3 Calories (per 100 g)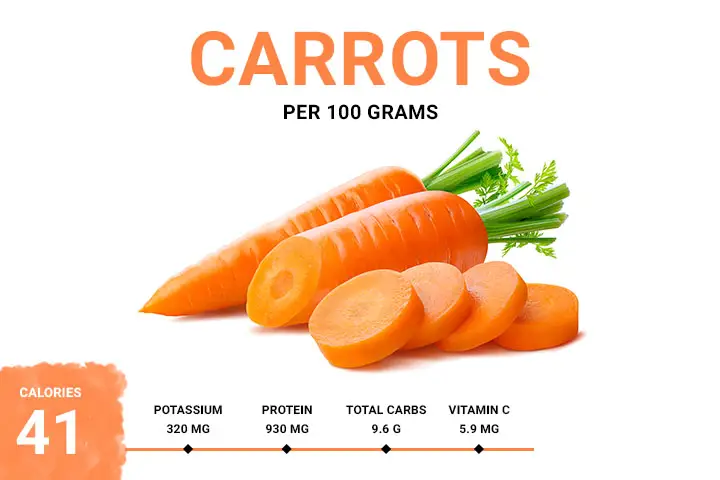 Carrots, as you may know, have eye sight improving properties. But not only this, it also tastes good. The crunch this orange veggie has is superb. Plus, it makes for a great snack as it contains fiber as well as fills your tummy. Rich in potassium, folate, magnesium, and antioxidants, carrots are excellent in terms of health benefits.
[ Read: What to Eat Before Bed to Lose Weight ]
Kale Calories – 49 Calories (per 100 g)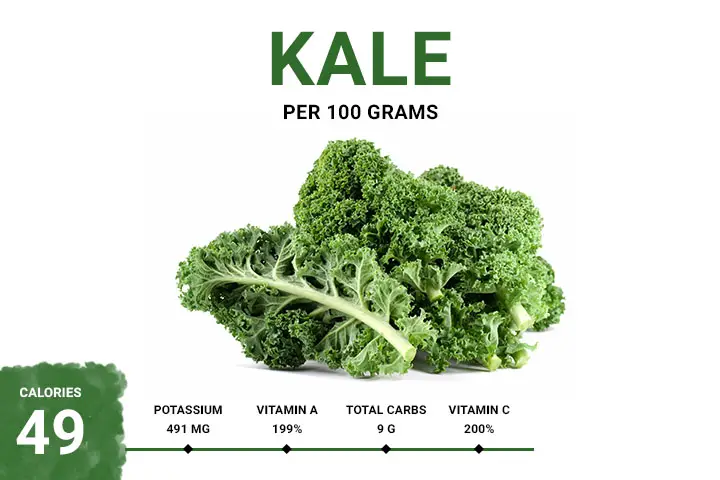 Kale is an ultimate food that gives you a major boost and because it has B vitamins, manganese, folate, and phytonutrients, any cancer causing elements keep at bay. Moreover, it controls blood sugar as well as provide many other health benefits.
[ Read: 15 Healthy Weight Loss Snacks ]
Onions Calories – 40 Calories (per 100 g)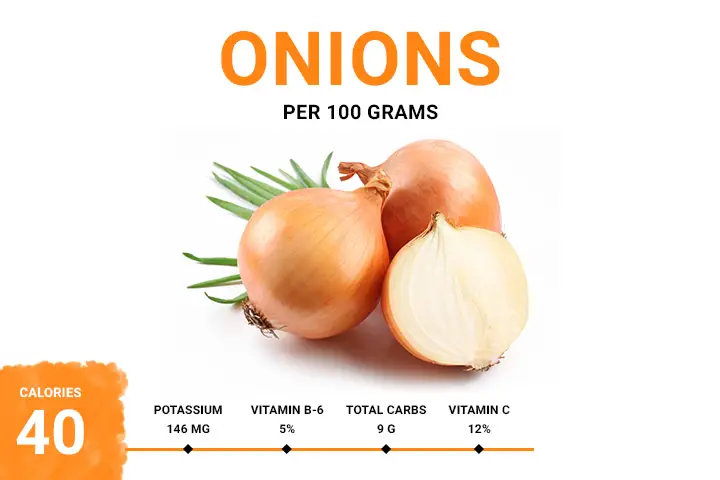 Onions are loaded with allyl sulphides that are known to add flavour to all the recipes. Ever wondered why the dish tastes good with onions in it? It is because of this unique element. Moreover, about the medicinal benefits, it helps combat endometrial cancer. So why not consume it on daily basis.
[ Read: 40 Best Fat Burning Foods ]
Papayas Calories – 42.78 Calories (per 100 g)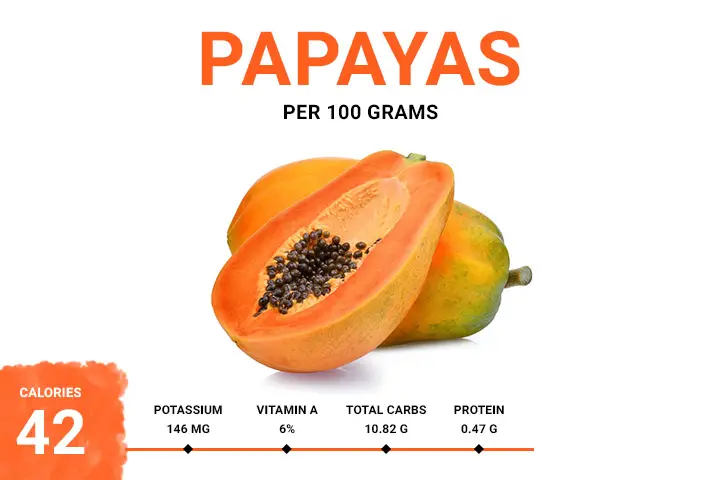 Get that sweetness and freshness with fresh papaya cubes. Just add it in the fruit salad or have it individually, it is going to give multiple benefits without calories, isn't it amazing?
[ Read: 15 Foods to Increase Your Metabolism ]
Pineapple Calories – 50 Calories (per 100 g)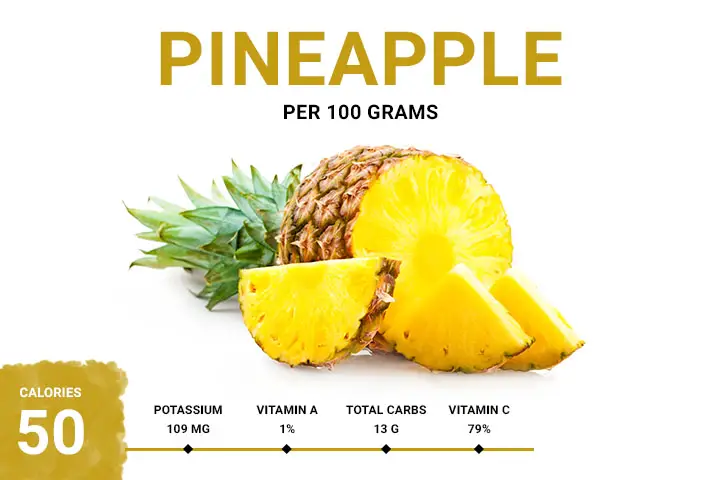 Pineapple is an awesome fruit to give your taste buds an amazing chill. It is almost as good as plums and if you make a salad using both, the benefits are endless. Simply toss a pineapple on the grill and eat it right away at dinner table. Enjoy!
[ Read: 12 Best Weight Loss Fruits ]
Plums Calories – 45.89 Calories (per 100 g)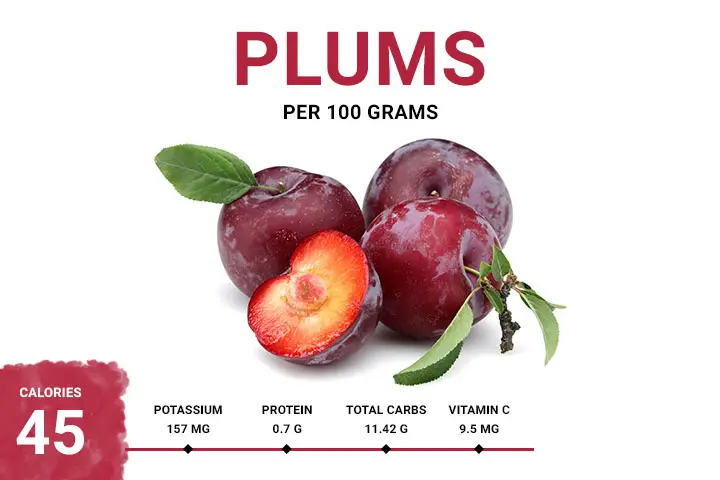 Plums are my all time favorites, are they yours? They taste sweet and juicy so why not make a quick salad and munch it on in the evening? As they are rich in minerals and vitamins, you will get daily dosage of fiber, isatin, and sorbitol which are responsible for good digestion process.
[ Read: 25 Healthy Low Calorie Snacks ]
Okra Calories – 33 Calories (per 100 g)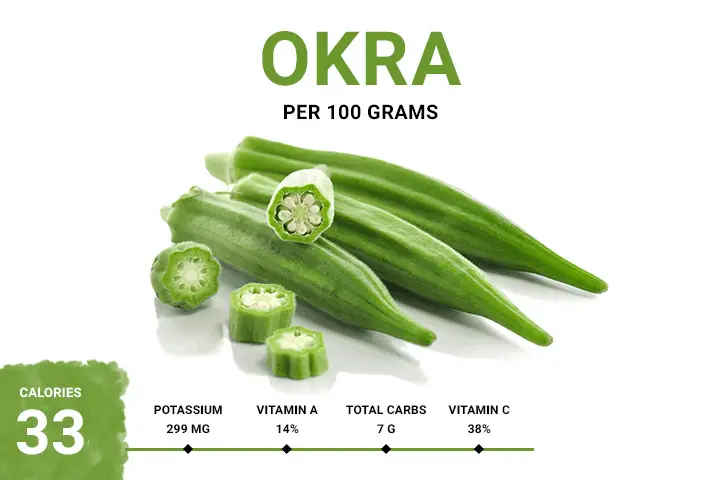 Not many people like okra but if we talk about its health benefits, okra earns a lot of points. It contains zinc, folic acid, vitamins A, B6, C, thiamine, and many more nutrients which are perfect for your body. Okra is counted as one of the healthiest foods so make sure to add it in your meals.
[ Read: Breakfast Ideas Under 100 Calories ]

Peaches Calories – 39 Calories (per 100 g)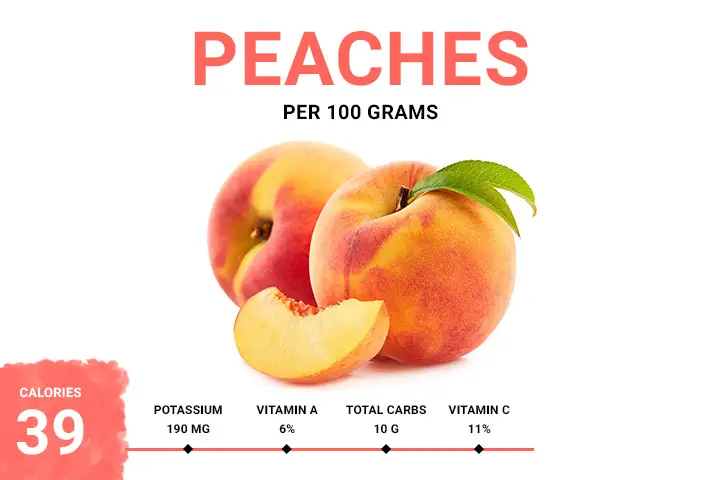 Fresh peaches taste amazing with not many calories. You can consume them any time of the day to avail great benefits as they are power packed with beta carotene, fiber, and potassium. Talking about the skin and hair benefits, peaches do a lot for your body.
[ Read: Low Carb Snacks For Weight Loss ]
Watermelon Calories – 30 Calories (per 100 g)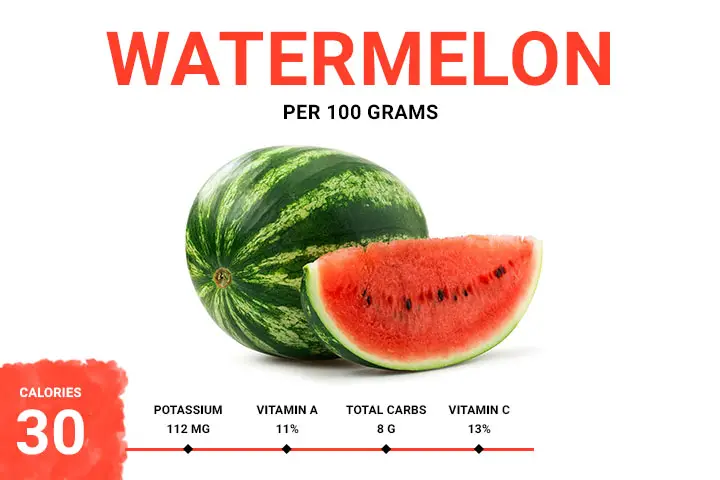 Are you thirsty? Do you want something quick and easy for snacking? Watermelon is an excellent thirst quenching fruit that can be consumed raw, in salads or in juices. Add a few tomato cubes to the watermelon slices and make it your juice.
[ Read: Low Carb Weight Loss Recipes ]
Strawberries Calories – 33 Calories (per 100 g)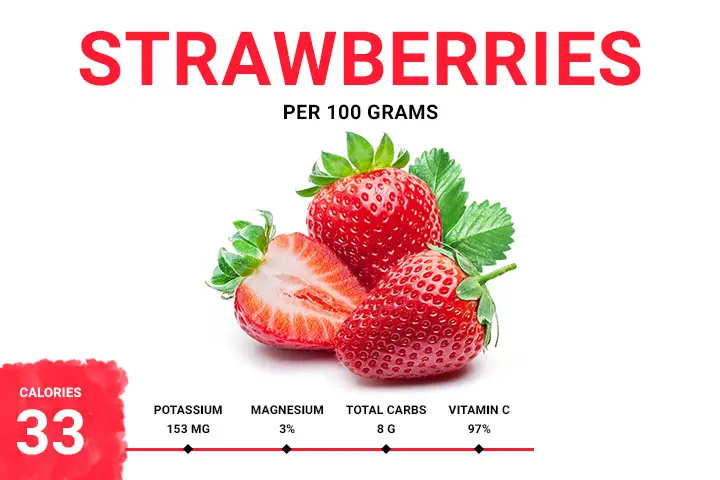 A strawberry contains 33 calories and a cup can fulfil your daily recommended amount of vitamin C. You can eat it raw or make a salad with avocado.
[ Read: Detox Water Recipes for Weight Loss ]
Cantaloupe Calories – 34 Calories (per 100 g)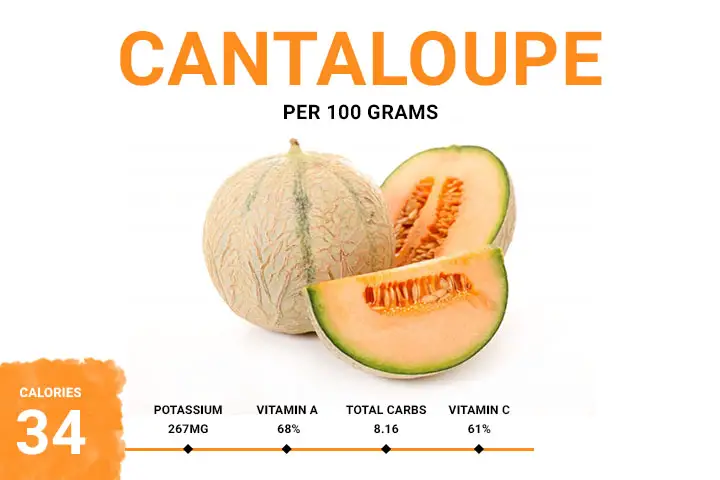 In the US, Cantaloupe is one of the most popular varieties of melon. Containing rich amounts of vitamins A, C, and beta carotene, this item promotes clear skin. Plus, it is known as a super food given the fact that it is loaded with essential nutrients. Either you eat it raw or add some water, cantaloupe makes a pretty good choice as a snack.
[ Read: Detox Juice Recipes for Weight Loss ]
Broccoli Calories – 34 Calories (per 100 g)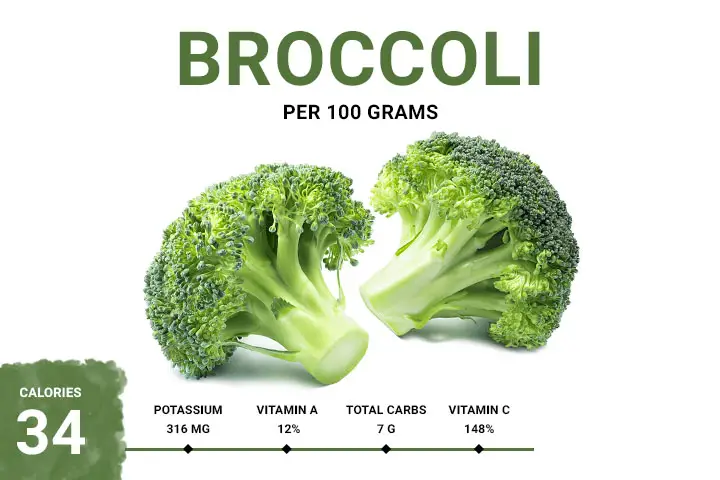 Broccoli contains folate, beta carotene, and vitamin C that help combat cancer. Moreover, it boosts the immune system and reduces risk of various other ailments. It is like other green veggies and has multiple health benefits. You can consume it roasted, sautéed or salad like.
[ Read: Healthy Weight Loss Drinks ]
Collard Greens Calories – 32 Calories (per 100 g)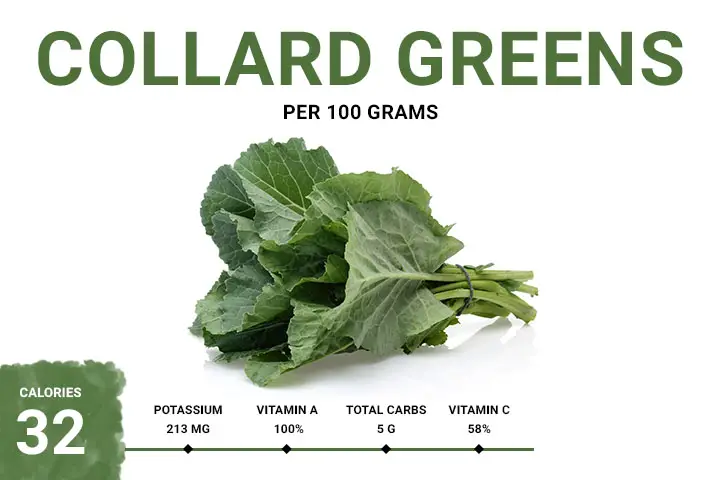 Collard green is an outstanding source of vitamin A, C, manganese, calcium, folate, and B vitamins. It contains vitamin K which you can consume daily in one cup. Make a nice health collard green meal and enjoy the evening.
[ Read: Healthy Weight Loss Smoothies ]
Fennel Bulbs Calories – 31 Calories (per 100 g)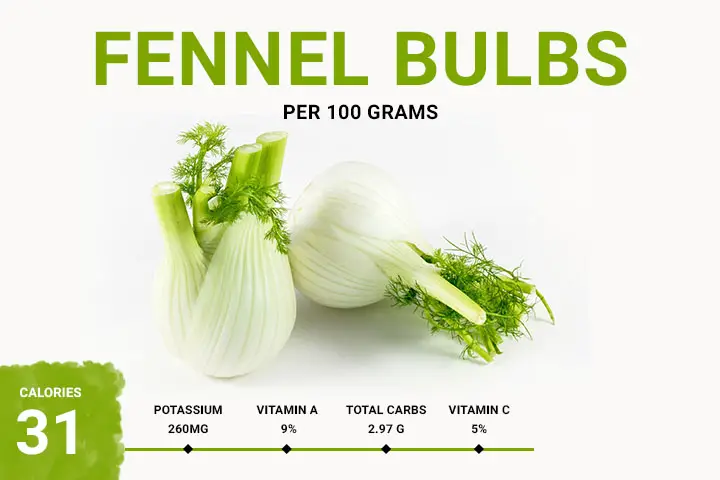 The fennel bulbs help flatten the tummy and this crunchy food item helps treat winter coughs and bad breath as well. It is licorice flavoured item that can be used with orange wedges in the form of salad.
Green Beans Calories – 31 Calories (per 100 g)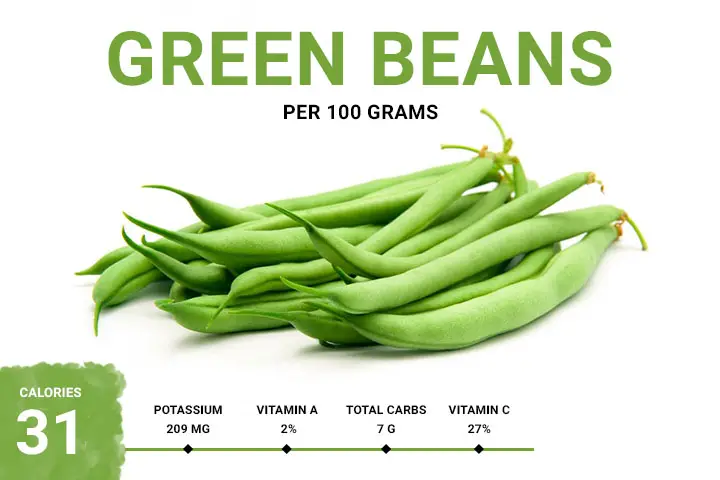 Green beans are wonderful when used in meals. Make a nice low fat dressing or crispy afternoon snack with green beans. Enjoy as is.
[ Read: Low Carb Weight Loss Recipes ]
Rutabaga Calories – 38 Calories (per 100 g)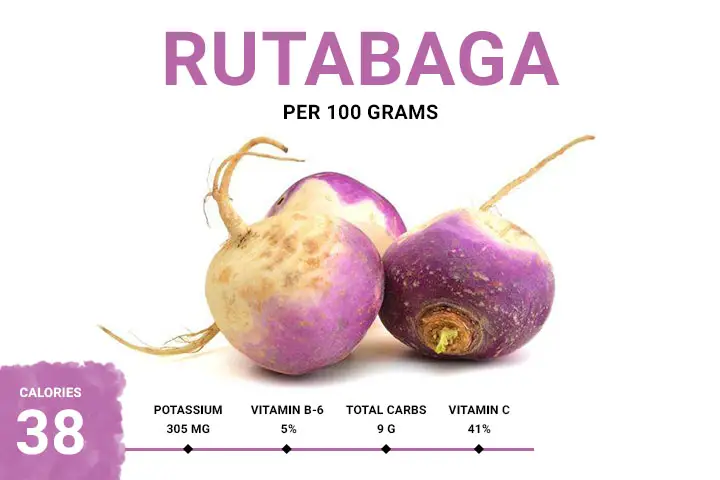 Rutabaga is rich in vitamins B, E, C, potassium, magnesium, calcium, folate and is good for metabolism.
Grapefruit Calories – 42 Calories (per 100 g)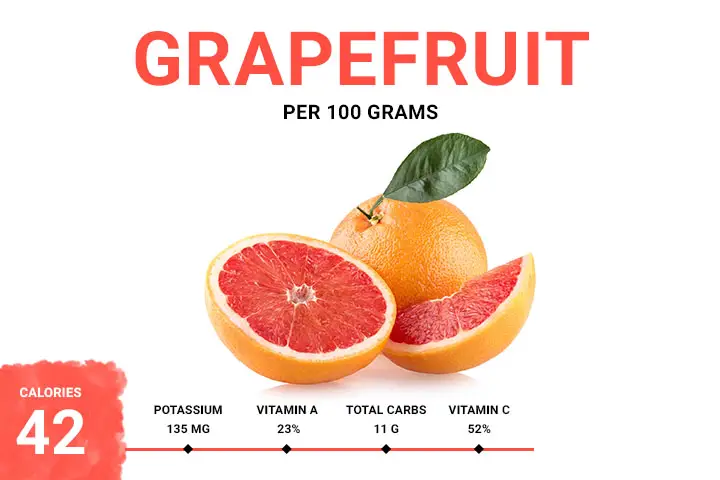 Grapefruit has detoxifying properties as well as contains antioxidant superpowers. This fruit tastes really good when eaten raw or in salads or drunk in juices.
Enjoy these foods under 50 calories and shake hands with good health.
You Might Also Like: