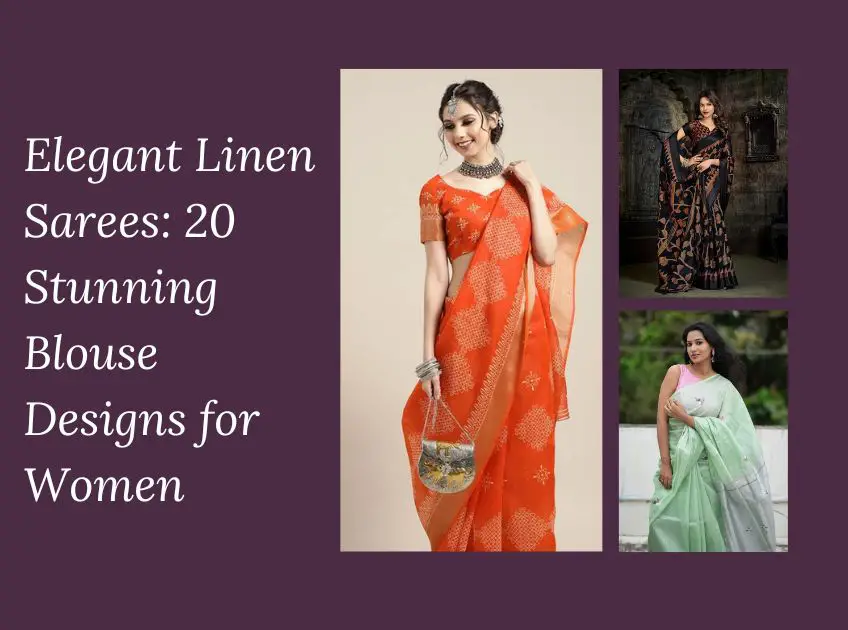 Linen sarees, woven from the natural flax fiber, are prized for their strength, breathability, and comfort, making them a favored choice for summer wear. Linen saree blouse designs, ranging from simple elegance to intricate eye-catching styles, offer versatility. They can be customized to harmonize with the saree's patterns, whether floral or geometric, enhancing the overall ensemble.
Elegant Linen Sarees: 20 Stunning Blouse Designs for Women
1. Blue Embroidered Silk Linen Saree With Sleeveless Gold Blouse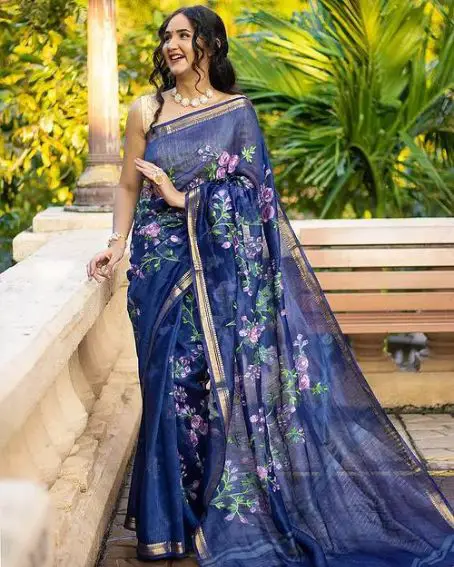 This saree combines the richness of silk with the elegance of linen, featuring intricate embroidery and a sleeveless gold blouse for a stunning ensemble.
2. Shangrila Designer Women's Cotton Linen Saree With Blouse Piece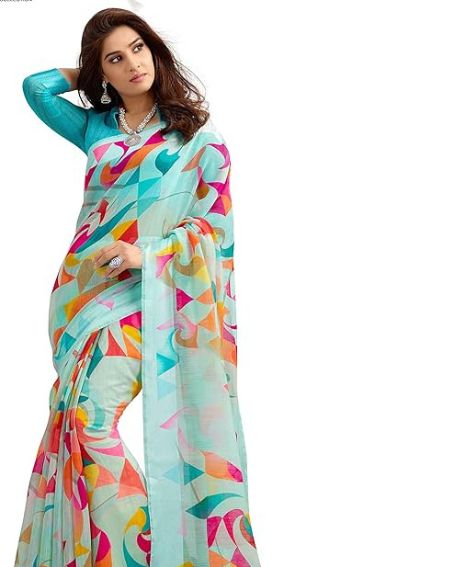 A comfortable and stylish choice, this cotton linen saree comes with a matching blouse piece, making it a versatile addition to your wardrobe.
3. Soft Lenin With Patola Print & Jacquard Border with Printed Contrast Blouse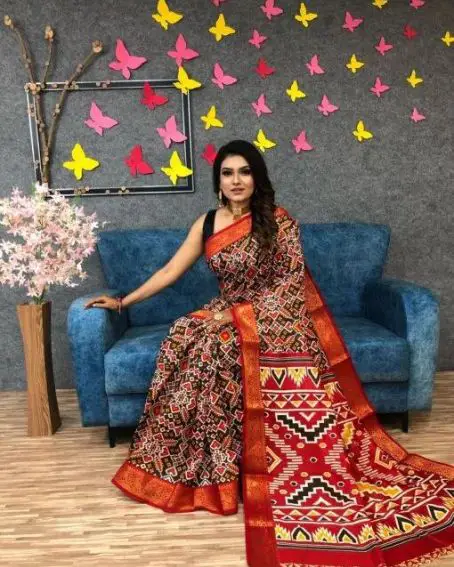 This saree boasts a soft linen fabric with a striking Patola print and Jacquard border, paired with a contrasting printed blouse for a unique look.
4. Attractive Kalamkari Digital Printed Linen Saree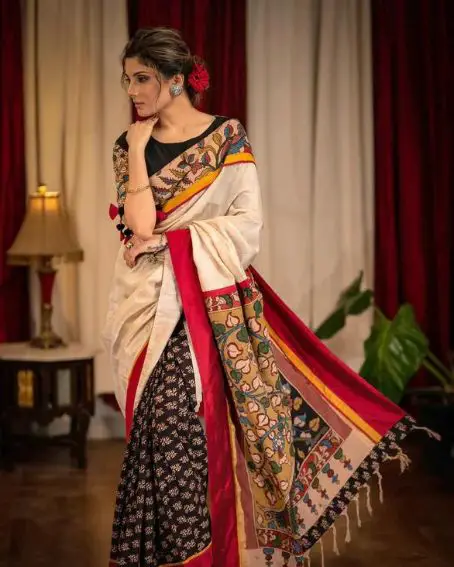 Featuring captivating Kalamkari digital prints, this linen saree is a blend of tradition and modernity, making it a standout choice for any occasion.
5. Saree Mall Orange Pure Linen Printed Saree With Unstitched Blouse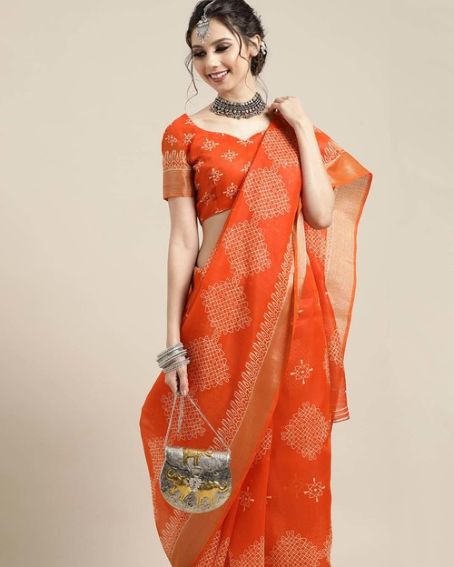 This vibrant orange pure linen saree comes with an unstitched blouse, perfect for adding a pop of color and style to your collection.
6. Elegant Teal Green Copper Handwoven Linen Saree With Lotus Design Pallu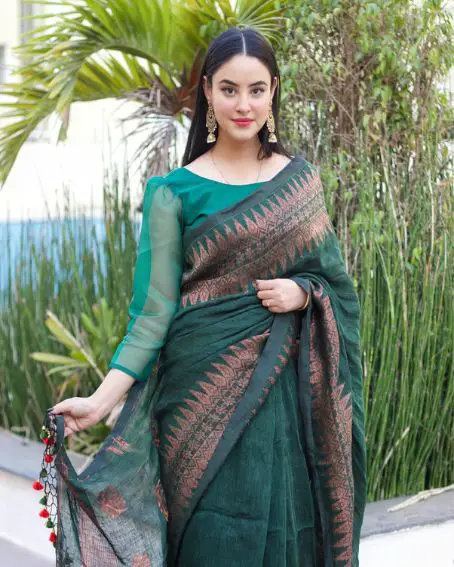 The teal green saree with a copper handwoven design and lotus design pallu exudes sophistication, making it an elegant choice for special occasions.
7. Pure Natural Linen Saree With Wonderful Homespun Texture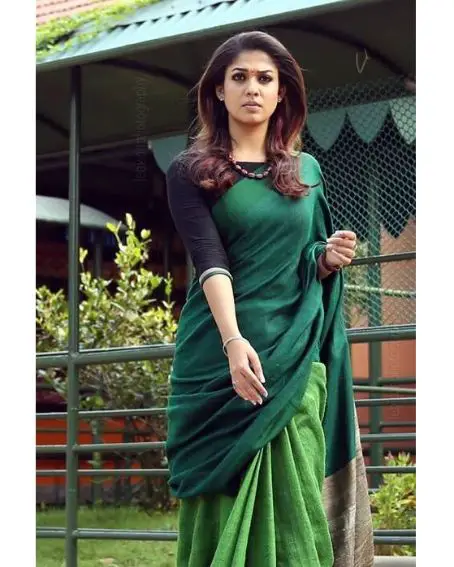 Celebrating the beauty of natural linen, this saree showcases a homespun texture that is both rustic and refined, perfect for a minimalist look.
8. Pink Handwoven Linen saree with red Cotton Sleeveless Blouse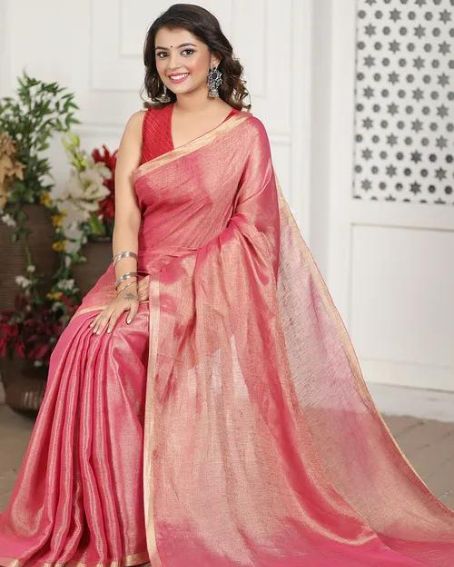 This pink linen saree paired with a red cotton sleeveless blouse offers a playful contrast, making it a charming choice for festive events.
9. Off-White Linen Saree with Silver Zari Pattu Border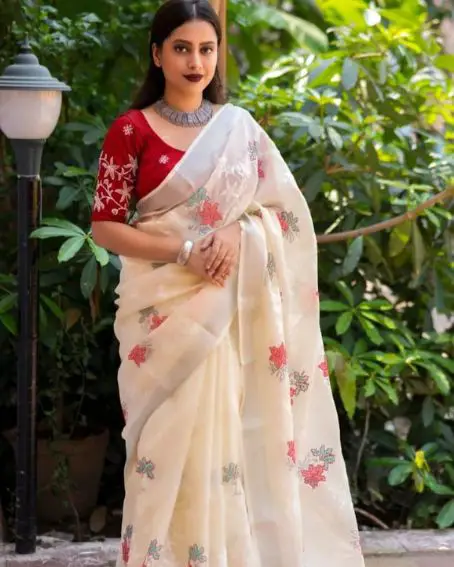 The off-white linen saree features a silver zari Pattu border, radiating elegance and grace for a timeless look.
10. Pure Woven Design Zari Pure Linen Saree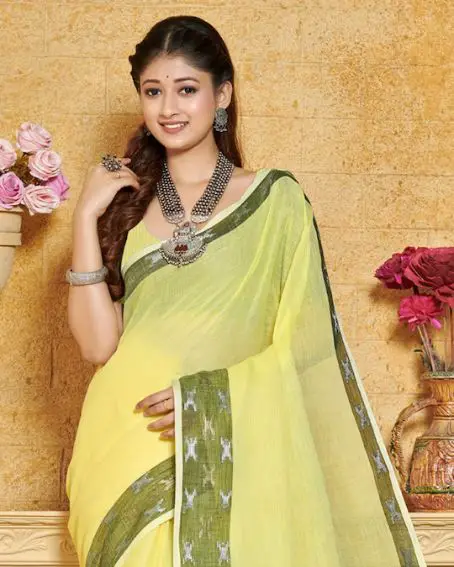 This saree boasts a pure woven design with intricate Zari work, offering a classic and traditional charm that's perfect for weddings and celebrations.
11. Beautiful Linen Floral Designer Saree With Pastel Green plain Blouse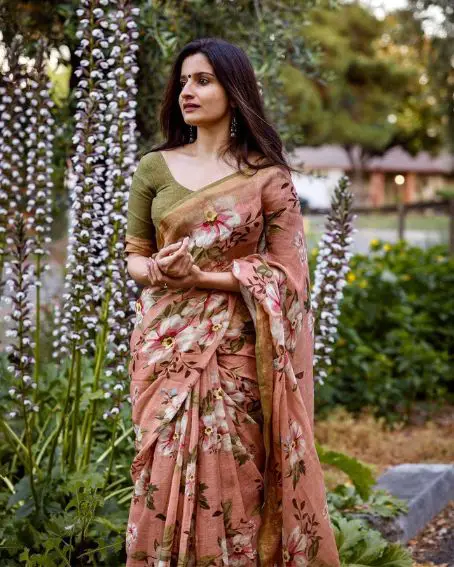 Adorned with floral designs, this linen saree in pastel green comes with a plain blouse, offering a delicate and refreshing look.
12. Women's Beautiful Plain Linen Saree With Border Lace Patti with Blouse Piece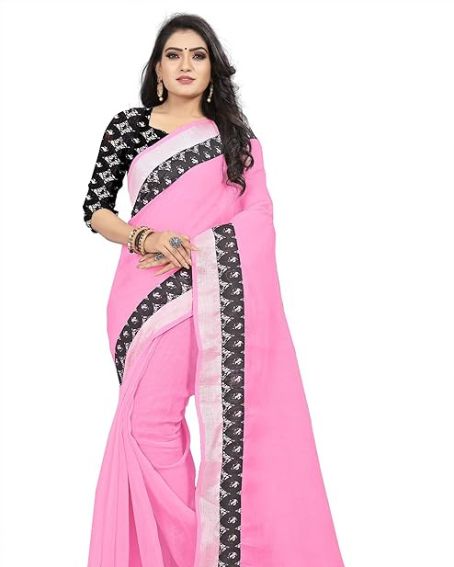 A plain linen saree with a border lace patti, paired with a matching blouse piece, is a versatile addition to your ethnic wear collection.
13. Soft Linen Saree with Threadwork and Silver Woven Border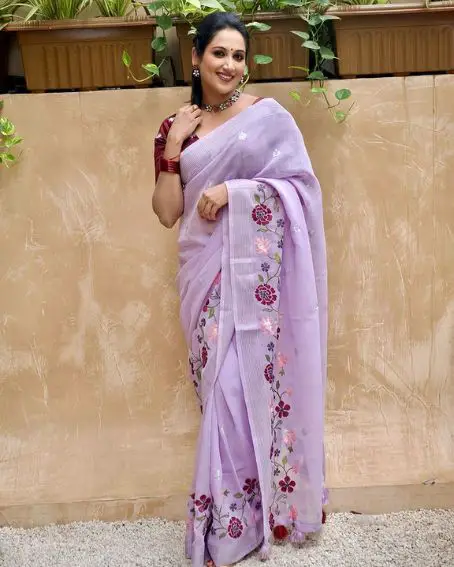 This soft linen saree features exquisite threadwork and a silver woven border, combining craftsmanship and elegance in one ensemble.
14. Black & Red Floral Printed Pure Linen Jamdani Saree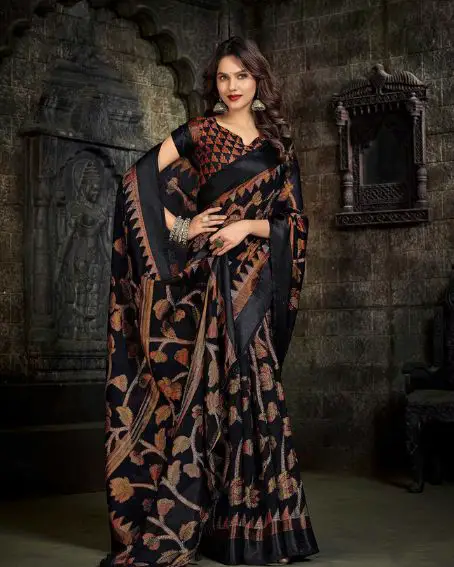 The black and red floral prints on this pure linen Jamdani saree create a striking contrast, making it a statement piece for women and young girls at any event.
15. Gray Saree Stripes Linen Saree with Floral Blouse Design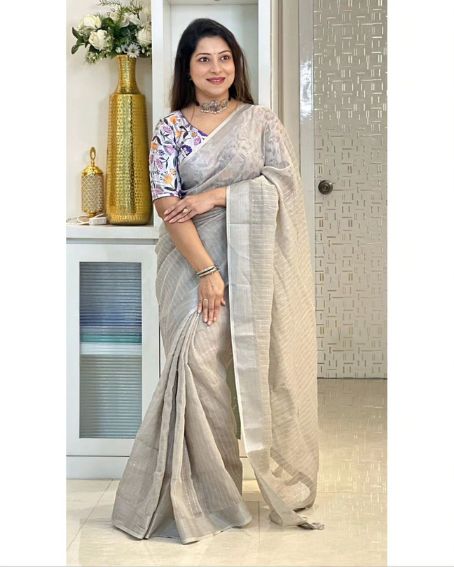 This gray linen saree with stripes and a floral blouse design is a chic and contemporary choice for modern saree enthusiasts.
16. Sky Blue Linen Saree with Flower Design Blouse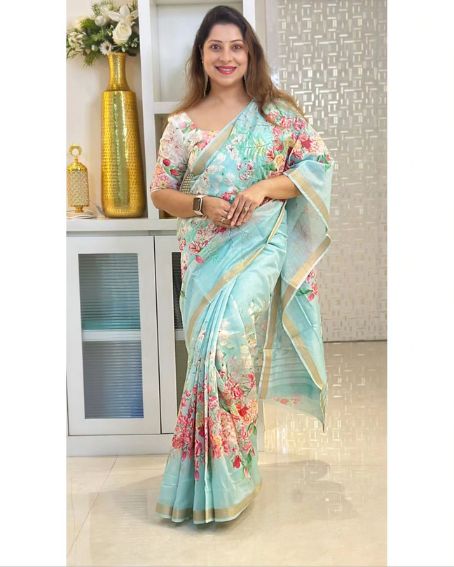 The sky blue linen saree adorned with a flower design blouse offers a fresh and charming look for casual and festive occasions.
17. Handloom Linen Saree with Copper Zari Border and Stripe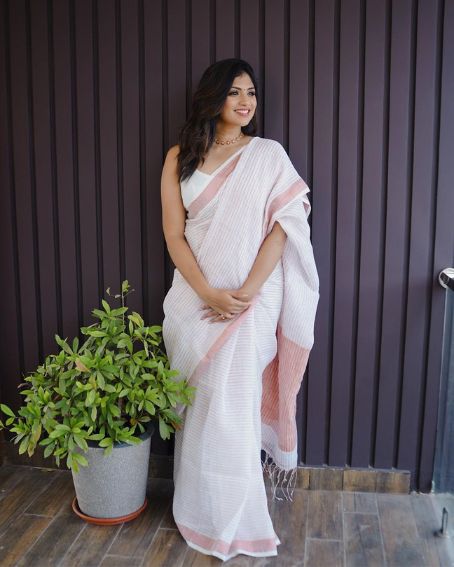 Featuring a copper zari border and stripe pattern, this handloom linen saree exudes timeless elegance, perfect for traditional gatherings.
18. Parrot Green Linen Saree with Pink Boat Neck Blouse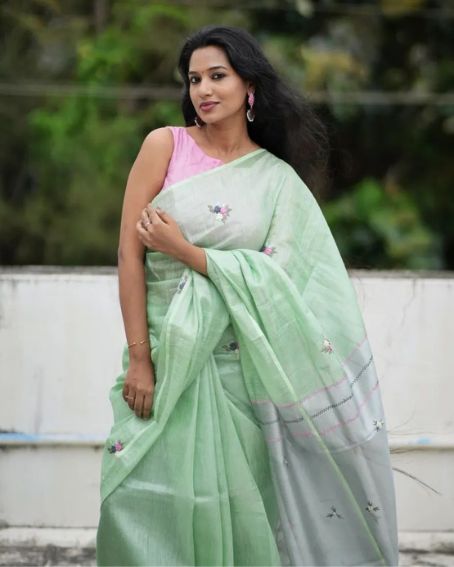 This parrot green linen saree paired with a pink boat neck blouse creates a vibrant and eye-catching ensemble for celebrations.
19. Beige Soft Linen Saree with Maroon and Gold Block Print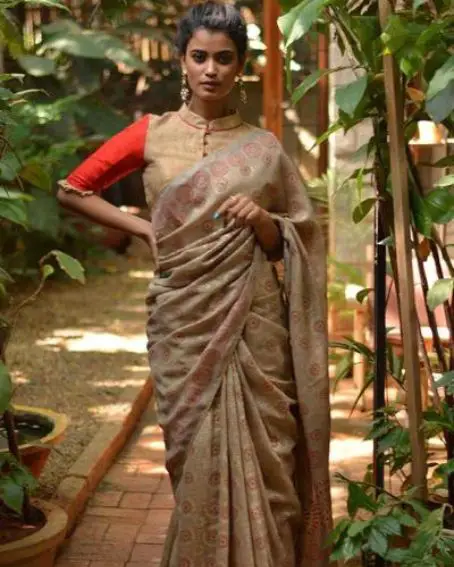 A beige linen saree with maroon and gold block prints, tissue edging, and gold bead edging exudes grace and sophistication.
20. Maroon Beautiful Hand Block Printed Cotton Linen Saree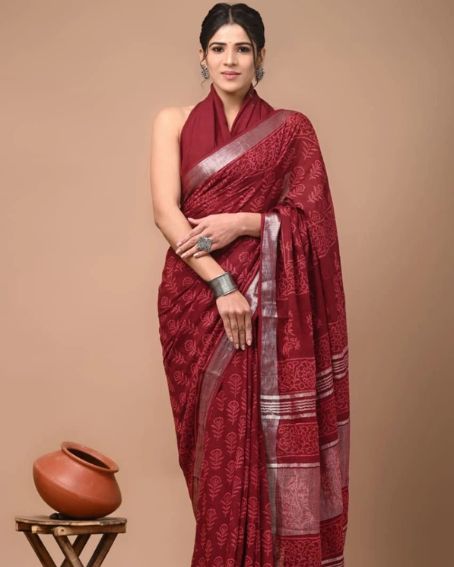 This maroon saree features beautiful handblock prints on cotton linen, offering a unique blend of comfort and style for special occasions.
What Types Of Blouse Designs Can Be Suitable For Linen Saree ?
Linen sarees are versatile and can be paired with various blouse designs to create different looks, ranging from traditional to contemporary. Here are some blouse designs that can be suitable for linen sarees:
Boat Neck Blouse: A boat neck blouse with a linen saree offers a modern and elegant look. It complements the simplicity of the fabric while adding a touch of sophistication.
Round Neck Blouse: A round neck blouse is a classic choice that pairs well with linen sarees. You can choose contrasting colors or embroidery to create a striking ensemble.
High Neck Blouse: A high neck blouse adds an element of regal charm to your linen saree outfit. It's perfect for formal occasions and provides a graceful silhouette.
Halter Neck Blouse: A halter neck blouse with a linen saree is a contemporary and stylish choice, especially for summer events. It offers a unique twist to the traditional look.
Off-Shoulder Blouse: An off-shoulder blouse can be a trendy and glamorous option for a linen saree, perfect for a cocktail party or a modern wedding.
Backless Blouse: If you want to make a bold statement, consider a backless blouse with your linen saree. It adds a hint of sensuality while maintaining elegance.
Sleeveless Blouse: A sleeveless blouse is a classic choice that allows you to showcase the beauty of your linen saree and can be paired with various necklines.
Puff Sleeve Blouse: Puff sleeve blouses add a touch of drama and vintage charm to your linen saree ensemble. They are perfect for a retro-inspired look.
Full Sleeves Blouse: Full sleeves blouses with intricate embroidery or detailing can be a great choice for winter weddings or formal events, providing both warmth and style.
Sheer Blouse: A sheer blouse, either completely sheer or with sheer elements, can add an element of modern chic to your linen saree outfit.
Printed Blouse: Coordinate the blouse with the print or design of your linen saree for a cohesive look. It's a trendy way to create a statement outfit.
Contrasting Blouse: Option for a contrasting color for your blouse to create a striking visual impact. Contrasting blouses can make your linen saree stand out.
Embroidered Blouse: Embroidery can add intricacy and elegance to your blouse. You can choose from various embroidery styles, such as threadwork, zari, or mirror work.
Tassel or Tie-Up Blouse: A blouse with tassels or tie-up detailing at the back or sleeves can bring a touch of bohemian flair to your linen saree look.
Collared Blouse: For a fusion look, consider a collared blouse with your linen saree. It can offer a contemporary and unique style.
For Which Occasion Women And Young Girls Prefer To Wear Linen Saree ?
Linen sarees are a popular choice for various occasions due to their versatility, comfort, and elegance. Here are some occasions where women and girls prefer to wear linen sarees:
Casual Wear: Linen sarees are lightweight and breathable, making them an excellent choice for everyday wear. Women often wear linen sarees for casual outings, running errands, or when they want to stay comfortable without compromising on style.
Office Wear: Linen sarees are considered professional and are often chosen as office attire. They provide a crisp and polished look, making them suitable for formal settings and corporate environments.
Summer Events: Linen sarees are ideal for summer events and gatherings. They keep the wearer cool and comfortable, making them perfect for outdoor parties, picnics, and daytime functions.
Festivals: Linen sarees in vibrant colors and intricate designs are commonly worn during festivals like Diwali, Durga Puja, and Eid. They offer a blend of tradition and style, making them suitable for religious and cultural celebrations.
Weddings: While not as common as silk or chiffon sarees, linen sarees are increasingly being chosen for wedding events. They are often worn by bridesmaids or guests for pre-wedding functions, haldi ceremonies, or mehndi ceremonies.
Formal Events: Linen sarees with intricate embroidery or embellishments can be suitable for formal events like cocktail parties, receptions, and upscale dinners. They provide a sophisticated and refined look.
Travel: Linen sarees are a popular choice for travel because of their comfort and easy maintenance. They are less likely to wrinkle compared to other fabrics, making them practical for long journeys.
College or University: Many young girls prefer linen sarees for college or university events and functions. They offer a youthful and chic appearance while still maintaining a traditional touch.
Art and Cultural Exhibitions: Linen sarees with unique prints, patterns, and designs are often chosen for art exhibitions, cultural events, and gallery visits. They reflect an appreciation for creativity and aesthetics.
Family Gatherings: Linen sarees are suitable for family gatherings, such as reunions, birthdays, or anniversaries. They strike a balance between comfort and style, allowing wearers to enjoy the occasion.
Temple Visits: Women often choose linen sarees for temple visits due to their modesty and comfort. Linen sarees in solid colors or subtle prints are considered respectful attire.
Dinner Parties: Linen sarees can be dressed up or down, making them versatile for dinner parties with friends or family. They are both comfortable for sitting and stylish for socializing.
Conclusion
Linen sarees, as mentioned earlier, offer a versatile range that can be beautifully enhanced by thoughtful blouse designs. Whether you prefer traditional or contemporary styles, the blouse holds the power to elevate the entire ensemble. It's the canvas for expressing your personal style and the occasion's essence, turning a linen saree into a masterpiece. When choosing your linen saree and blouse pairing, consider the occasion, your unique taste, and the desired aesthetic to create a truly stunning outfit.
Related Articles