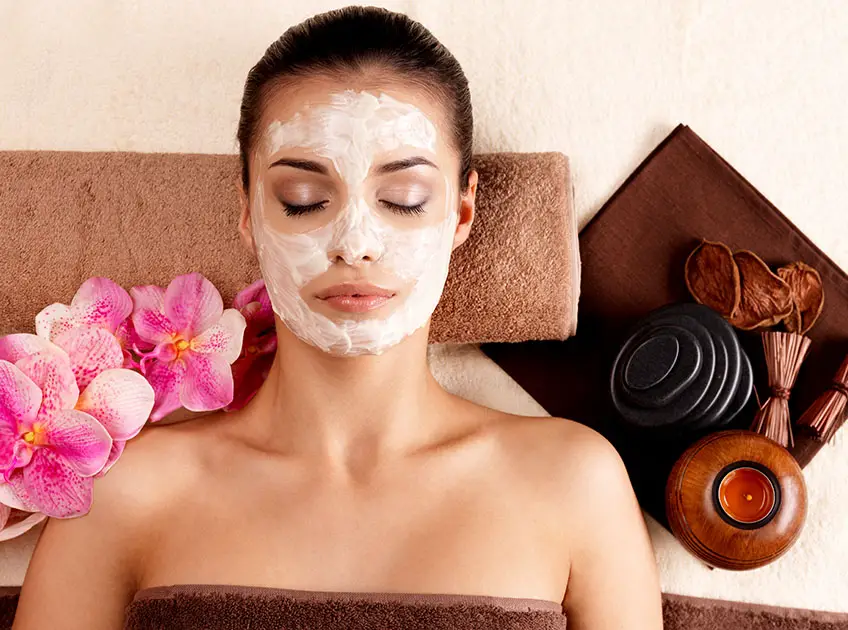 When it comes to skincare, there is a remarkable difference between store-bought skincare products that have chemical ingredients and those made at home with all-natural ingredients. Be it face masks, lip scrubs, face wash, toner, moisturizer, or others, you can easily make them at home. Let us see some of the best natural skin care recipes.
7 Homemade Natural Skin Care Recipes
1. Lip Balm
Ingredients:
Avocado oil, coconut oil, beeswax-1 tsp each
vitamin E capsule-1 (optional)
Recipe:
First, melt the bee wax in a bain-marie heat bath.
Add the coconut and avocado oils to it and then remove it from the heat.
Let it cool for 5-10 mins without letting it solidify as you need to stir Vitamin E oil into it.
Store this mixture in an airtight container and let it solidify for 2 hrs before using.
You can keep it for 6 months
Benefits: It results in smoother and moisturized lips.
[ Recommended: How to Exfoliate Lips Naturally ]
2. Face Mask
Ingredients:
Heavy cream-2 Tbsp
Vitamin E capsule-1
Honey-1 Tbsp
Recipe: Add the Vitamin E capsule contents to a bowl, and mix honey, and heavy cream to it to create a smooth consistency. Apply on the face and leave for 15-20 mins before rinsing off with warm water.
Benefits: This is a creamy face mask that has a lifting and firming effect on the skin. It suits any skin type and has a lovely fragrance.
[ Recommended: Homemade Overnight Face Masks For Healthy Skin ]
3. The Natural Chemical Peel
Ingredients:
Natural yoghurt
Green tea-grounded
Organic honey-2 tsp
Recipe: Ground some green team and combine 2 teaspoons of organic honey to it to create a smooth mixture. For those with oily skin, some yoghurt can be added to it, so the sebum production gets regulated.
Benefits: This is a plant-based peel that doesn't have any side effects on the skin like the chemical peels.
4. The Body Scrub
Ingredients:
Fresh lemon juice-1 tbsp
Honey- 3 tbsp
Tea tree oil-2 drops
Ground oatmeal-1 to 2 tbsp
Recipe: Combine the above ingredients to create a mixture in which oatmeal's consistency can be adjusted as per your need. Apply it and leave it for some time before washing off. In case the acne persists, discontinue using it or consult a physician.
Benefits: It helps in minimizing pores and reduces the appearance of acne.
[ Recommended: Homemade Body Scrubs to Reduce Cellulite ]
5. Face Cleanser
Ingredients:
Apple cider vinegar-2 tsp
Almond oil-1 tbsp
Ground almonds- 2 tsp
Water- 1 tsp
Recipe:
Combine the above ingredients in a bowl to create a paste.
To open up the pores in the face, place a damp cloth for 20-30 seconds.
Pat the face dry with a clean towel and then massage the mixture on the skin using your fingertips.
Avoid contact with eyes and then rinse with warm water.
The remaining mixture can be stored in an airtight container or refrigerator, to be used within 3 days.
Benefit: It cleanses the skin and gives a refreshing feel.
[ Recommended: Natural Ways to Clean Your Face Without Soap ]
6. Face Toner
Ingredients:
Peppermint tea leaves- 1 tsp
White tea leaves- 4 tsp
Lavender oil-2 drops
Recipe:
Mix the above ingredients with a half a cup of boiled distilled water in a French press.
Steep it for 10 minutes before letting it cool in a glass container.
Add some aloe vera gel to fill a spray bottler atomizer till 4 oz and store in the refrigerator before spritzing it.
Benefits: The toner fights acne and gives a feeling of freshness.
[ Recommended: Homemade Face Masks to Remove Dark Spots ]
7. Hand Cream
Ingredients:
Bergamot essential oil- 10-15 drops
Wax pellets- 1 tbsp
Shea butter- 1 tbsp
Distilled water- 1 cup
Sweet almond oil- 3/4 cup
Vitamin E capsules- 1-2
Recipe: Combine all the above ingredients along with the contents of the vitamin E capsule to create a cream-like consistency and apply on your hands every night.
Benefits: It nourishes the skins of the hand and keeps them moisturized.
Skincare doesn't just mean using a variety of skincare products but living a healthy life by doing exercises and inculcating clean eating habits. Along with this, if the above recipes are used regularly, you can have youthful skin.
Recommended Topics: